Last week, co-creator of Captain America and comic book pioneer Joe Simon passed away at the age of 98. Members of the Marvel community would like to take this time to offer their thoughts on this legendary figure.
Kevin Feige (President of Marvel Studios): "Today we are saddened by the loss of Joe Simon a man whose iconic Captain America is still inspiring and entertaining audiences 70 years later. It was an honor and a privilege getting to know Mr. Simon and his family during the production of 'Captain America: The First Avenger.' We have no doubt that Cap, and Joe's legacy, will live on for many more decades and we are proud that he was able to be a part of last year's feature film and we were humbled by his enjoyment of the movie. Our thoughts are with his family on this day."
Axel Alonso (Marvel Comics Editor-in-Chief): "Among many accomplishments in the comic book field, Joe Simon co-created one of the most enduring super hero icons—indeed, American icons—of the 20th Century. If there ever were a super hero who needed less explanation than the red, white and blue-clad Captain America, I've yet to see him."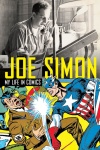 Tom Brevoort (Marvel Comics Senior VP-Executive Editor, current editor of CAPTAIN AMERICA): "Joe Simon was one of the very few 'grown up' creators to enter the field during the formative days of comics. And by 'grown up,' I mean that Joe was an adult with some years under his belt out in the world, and a keen awareness of the business side of the desk as well as the creative side. In an era when most guys were content to struggle from page rate to page rate, Joe was savvy enough to parley his editorial skills first into staff positions, and then to use the platform being in those positions gave him to turn the Simon & Kirby byline into a viable brand unto itself, one of the very few in the business in the 1940's that meant anything.
"What many folks today don't realize is that Captain America, while a great character, wasn't the first patriotic super hero in comics. But he was still a trend-setter, more for the style in which his stories were told than anything. Simon and [Jack] Kirby were the first comic book creators to truly take advantage of the possibilities of the medium, adapting ideas they'd seen in practice in film to achieve a greater sense of movement and kineticism than anything else then on the stands. A Simon & Kirby comic delivered on action, with figures that seemed to burst the confines of the comic book page! After Captain America, everybody else in the field was modeling their work on what Joe and Jack were doing—including some of the earlier patriotic characters."