A God of Fear descended and preyed upon humanity's collective terror. An army of arachnids infested New York City and transformed its population. The proud defenders of a nearly extinct race went to war with one another.
Yet despite all this and more, the Marvel Universe still stands thanks to the grea
test
heroes it has ever known.
To conclude our look back at 2011, Marvel.com spotlights our personal favorite champions for good from the past year.


This list reflects a vote conducted by members of the
Marvel.com
editorial staff and should by no means be considered official ranking or representative of anything but their specific tastes


10. SPIDER-MAN (MILES MORALES)

Appeared In:
ULTIMATE COMICS SPIDER-MAN

2011 in Review:
A young kid who just had the good fortune of winning a lottery to enter a New York City charter school, Miles Morales found himself with burgeoning super powers in the wake of
Spider-Man
's death and the revelation of his identity as
Peter Parker
. Despite a lack of training, Miles has attempted to honor the memory of Spider-Man by taking up his cause. After a shaky initial outing, Miles met Spider-Woman and member of the Ultimate, who rewarded him with a new costume after he defeated
Electro
.

Why He Makes the List:
Most kids who discover they have super powers might react with terror or look to exploit them for personal gain, but Miles Morales, a young man who has come from virtually nothing, took up a legacy he knew little about and swung into situations way over his head because he knew the right thing to do. Though Miles remains untested and has stumbled a few times already, he's got the clear makings of a hero and we see big things for the new Spider-Man.


9. DAREDEVIL

Appeared In:
DAREDEVIL, NEW AVENGERS

2011 in Review:
Following a sojourn to redeem his soul following the events of Shadowland, Matt Murdock returned to New York City where he resumed his legal practice and his role as Daredevil. He has since taken on and defeated Klaw and Bruiser, liberated crucial data from a criminal conglomerate and begun a new venture to help the innocent represent themselves in court. During Fear Itself, Daredevil aided the Avengers against the forces threatening Manhattan and finally accepted a standing invitation to join the team.

Why He Makes the List:
Not for the first time, it appeared as if Matt Murdock had hit rock bottom, but as he always has, the Man Without Fear dragged himself from the depths back into the light. Daredevil's constant rebuilding of his life despite the tragedies he has faced must be seen as commendable, and his new dedication to helping the innocent in new ways and upholding justice with a smile—regardless how forced—has already made us forget Shadowland and embrace the
Guardian
Devil of Hell's Kitchen anew.

Digital Highlight:
DAREDEVIL: REBORN #1
—Shattered by Shadowland, Matt Murdock seeks peace!


8. CYCLOPS

Appeared In:
UNCANNY X-MEN, X-MEN, ASTONISHING X-MEN
2011 in Review:
The leader of the X-Men made difficult decisions this year, successfully working with his allies to fend off malcontents from Breakworld and turn the Juggernaut back from destroying San Francisco, but ultimately driving Wolverine and a large portion of his allies away by opting to enlist young mutants as soldiers and allowing teenage Idie to kill an enemy in order to save a crowd of humans. With those remaining, Cyclops founded an Extinction Team to serve as mutantkind's vanguard; they have thus far been successful against
Sin
ister and the Phalanx.

Why He Makes the List:
Scott Summers did not win many popularity contests with his friends and colleagues this year, but he did what needed to be done in order to ensure the mutant race lives on. He may not agree with Wolverine's views, but rather than prolong their conflict, he let Logan go and split the ranks of their people so that a choice he couldn't provide would be available. With the formation of the Extinction Team, he has shown he will protect humanity whether they like it or not and has abandoned the idea of being embraced as heroes so long as he can inspire enough fear to keep safe those under his charge. It's not easy being Cyclops, but for a guy who can't open his eyes, he rarely blinks in the face of a challenge.

Digital Highlight:
UNCANNY X-MEN #516
—Cyclops presides over the dawn of Utopia!


7. HOPE

Appeared In:
GENERATION HOPE, UNCANNY X-MEN

2011 in Review:
Hope Summers took control of her Five Lights squadron this year, leading them to uncover an unborn mutant and arriving just too late to save another young Light whose powers drove them to suicide. The strong young woman overcame this tragedy and conflicts within the team to galvanize the youth of Utopia against the Hellfire Club's Sentinels while Cyclops and Wolverine fought one another. She recently joined the Extinction Team and played a crucial role in defeating Sinister.

Why She Makes the List:
Hope lost her father, the only person she trusted, and landed on an island of strangers that alternatingly feared her power or hailed her as the savior of her race; the easy thing to do would be curl up in a ball and cry, but that has never been and will never be the style of this incredibly tough young woman. Instead, she molded her Five Lights group into a battle-ready squadron second to none amongst the X-Men and led her fellow young mutants into battle while their adult counterparts squabbled and missed the big picture. She may not be the mutant messiah quite yet, but she seems to be well on her way.

Digital Highlight:
GENERATION HOPE #1
—The Lights head to Japan in search of their final potential member!


6. LOKI

Appeared In:
JOURNEY INTO MYSTERY, THE MIGHTY THOR

2011 in Review:
Resurrected by his brother Thor as a young boy, Loki began his new existence trying to make amends for the mischief and evil of his previous one. Through a series of bargains with Hela, Mephisto, Surtur and other beings of ill repute, the Trickster mounted a defense of both Earth and Asgard against The Serpent, launching contingency plans to safeguard each. Alongside Tyr and the Disir, Loki stormed the gates of the Serpent's base, unaware that as he worked his schemes, Thor perished in an act of self-sacrifice. With the world forgetting the Thunder God's existence in favor of Tanarus, Loki remains the only one with some memory, and works now to return the favor his brother did by saving him from the abyss.

Why He Makes the List:
After his several life time of misdeeds, it's no surprise that nobody likes or trusts Loki. What did come as something of a shocker this year would be that despite his nature and the loathing surrounding him, the erstwhile God of Mischief made a sincere effort to do the right thing and ended up being a key player saving both Asgard and Earth from The Serpent. Not only does Loki have an impressive success rate thus far as a neophyte "hero," he does his business with all the style and sneakiness he employed as the Trickster of old; it's neat to see his knack for manipulation and double dealing turned to good—at least for now.

Digital Highlight:
THOR #617
—Loki returns from the dead in a new form!

5. WOLVERINE

Appeared In:
WOLVERINE, UNCANNY X-FORCE, WOLVERINE & THE X-MEN, AVENGERS, UNCANNY X-MEN, NEW AVENGERS, WOLVERINE: THE BEST THERE IS
2011 in Review: As the leader of X-Force, a member of two Avengers teams and one of the X-Men's pillars, Wolverine spread himself thin in 2011, but did not let any of his obligations go unanswered. On his own, he confronted the demons of his past in the form of the Red Right Hand, enduring their cruel schemes against him, and waged a pitched war against the sadistic Contagion. Most significantly, he broke away from Cyclops and led half of the X-Men back to New York City where he opened the Jean Grey School, serving as headmaster, reasoning that young mutants deserved a choice whether or not to be soldiers.
Why He Makes the List: For years, Wolverine has taken on the burden of being the X-Men's front line soldier and executioner when necessary not because it's a role he relishes, but because he wants to spare others the burden. This year, Logan put his money where his mouth is, opposing Cyclops' belief that even mutant children needed to be prepared to serve in war, making the difficult decision to split the X-Men and embark on an endeavor unlike any even he has undertaken in his long life as headmaster of the Jean Grey School. For Wolverine, leaping at opponents with claws unsheathed has become routine, but following through on his convictions and taking young lives into his hands has already proven a far greater challenge.
Digital Highlight: WOLVERINE #5.1—Logan celebrates his birthday with a nasty pair of new enemies!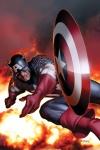 4. CAPTAIN AMERICA
Appeared In: CAPTAIN AMERICA, AVENGERS, SECRET AVENGERS
2011 in Review: With Bucky Barnes still installed as Captain America at the start of the year, Steve Rogers focused on leading his Secret Avengers team in strikes against the Shadow Council as well as supervising the main Avengers in their war with The Hood over the Infinity Gems. After Bucky seemed to fall in battle with Sin during Fear Itself, Rogers once again donned the cowl and resumed his role, rallying Earth's Mightiest Heroes to ultimate victory. Cap also faced ally-turned-enemy Codename Bravo, who abducted him to another dimension and challenged the validity of his service to his country.
Why He Makes the List: While he may have itched for action and to field that familiar shield in his hands, Steve Rogers adjusted to his role overseeing the Avengers while proudly ceding his legacy as Captain America to Bucky Barnes. When his successor fell in battle, stepping back into the uniform with no time to mourn could not have been Cap's ideal, but he did what heroes do and got right back in the fight, rallying the Avengers and battling back against foes who out-powered him in every sense. The scene of Captain America leading an army of average men and women to victory against overwhelming odds could not have been more appropriate.
Digital Highlight: CAPTAIN AMERICA #615.1—Who will be Captain America?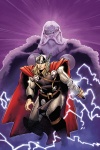 3. THOR
Appeared In: THE MIGHTY THOR, AVENGERS, JOURNEY INTO MYSTERY
2011 in Review: In defense of Asgard and Odin, Thor led his people against the World Eaters and Galactus himself, opening himself up to grave injury and plunging headlong into the World Tree in the process. As an Avenger, The Thunder God pitted his might against those of the Infinity Gems wielded by The Hood. But most significantly, Thor defied his own father and came to Earth's aid during Fear Itself, defeating both The Hulk and The Thing while each had mystic hammers of their own, and then managing to take down the seemingly unbeatable Serpent in final battle at the cost of his own life.
Why He Makes the List: Odin provided Thor with every opportunity to sit out Fear Itself, remaining safe in Asgard and watching as Earth burned, but with the knowledge that his own eternal existence would be secure. Yes, the God of Thunder had this option readily available, but instead he opted to descend back into the realm of humanity against his father's wishes and give his all to protect the mortals he has come to love. Thor's unbreakable spirit carried him through his handicap match with the Serpent's strongest Worthy, and his indomitable spirit brought him unlikely triumph over the fear god himself. In times of peril, Thor proved that humanity can always count on him.
Digital Highlight: THOR #620.1—When The Grey Gargoyle gets loose in Asgard, it's up to Thor to bring him down!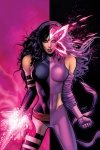 2. PSYLOCKE
Appeared In: UNCANNY X-FORCE, X-MEN, UNCANNY X-MEN
2011 in Review: As a member of X-Force, Betsy Braddock journeyed to the Age of Apocalypse and back seeking a way to save her lover, Warren Worthington, from permanently transforming into the evil Archangel. When these efforts failed, Psylocke found herself facing off against Warren on both the physical and psychic planes, fighting to save not only him but herself as well, and ultimately needing to sacrifice their love in order to save reality. With the X-Men, Betsy faced off against the survivors of Breakworld and a Serpent-powered Juggernaut before siding with Cyclops after Schism and joining Storm's team on a mission in Eastern Europe to destroy a private army of Sentinels.
Why She Makes the List: Heroes in the Marvel Universe make sacrifices every day, but Betsy Braddock gave up the man she loved and perhaps any shot she ever had at finding happiness in order to save the world this year, and in our eyes it's not an action that should be overlooked. It's first worth noting that Psylocke went to every possible extreme to save Archangel from himself, diving into his treacherous mindscape as well as traversing dimensions to seek a cure, but when the chips came down and all other options fell off the table to the point where even her own life—which she would have gladly given—would not do the job, she killed the person she loved the most. That he returned to her without any memory of their love twisted the knife harder, but also reminded us of Psylocke's tremendous and thankless heroism.
Digital Highlight: UNCANNY X-FORCE #1—Psylocke joins X-Force!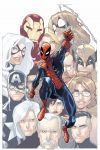 1. SPIDER-MAN
Appeared In: AMAZING SPIDER-MAN, AVENGING SPIDER-MAN, AVENGERS, NEW AVENGERS, FF
2011 in Review: With a new "Big Time" outlook on life, Spider-Man sadly entered the year on a down note, defeating the Spider-Slayer and Scorpion, but not being able to save his friend Marla Jameson, who got caught in the battle. After the Human Torch also seemingly perished, Spidey vowed to not let anybody else die on his watch, tackling threats like the Sinister Six, Psycho-Man and more with renewed vigor. When The Queen and The Jackal transformed Manhattan into "Spider-Island," infecting its inhabitants with spider powers and later mutating them into arachnid form, it fell to Spider-Man's experience and brains to save the city. The webslinger also joined the Future Foundation and held up his membership on two Avengers rosters through Fear Itself and other challenges.
Why He Makes the List: Spider-Man felt the true tug of great responsibility when his old foes The Queen and the Jackal transformed Manhattan into Spider-Island, forcing him to find himself amongst an entirely populace now "gifted" with the great power he has born for so long. When the gift became a curse and powers mutated into a monstrous army under the Queen's control, Spidey stepped up like never before, lending his scientific knowhow to a cure and figuring out how to execute the seemingly impossible save with his wits, but also by inspiring the NYC populace with a rousing speech that made clear why he's among the greatest heroes of all-time. The webslinger also rose to the occasion by filling the Human Torch's sadly vacated spot in the FF, serving on multiple Avengers missions and more, but his leadership of both those organizations in the crucible of Spider-Island earns him top honors on this list.
Digital Highlight: AMAZING SPIDER-MAN #655—In the wake of the Spider-Slayer's attack, Peter Parker makes a bold promise!