By Tim Stevens
As both the starter and anchor artist on the upcoming "Circle of Four" event, Tony Moore has his work cut out for him. By handling art duties on February's VENOM #13 and March's VENOM #14, the artist must establish the tone of the arc and then see that it sticks the landing, a fact he stands well aware of.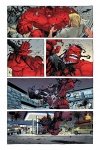 VENOM #13 preview art by Tony Moore
Moore and writer Rick Remender will kick off the six-part story running through a half dozen issues of VENOM, also featuring Red Hulk, X-23 and the current Ghost Rider, plus the talents of writers Jeff Parker and Rob Williams as well as artists Lee Garbett, Lan Medina, Sana Takeda and Julian Totino Tedesco.
"It definitely makes me feel the need to up the ante as much as possible, artistically, knowing whose work I'm standing alongside," he acknowledges. "I sure don't want to be the weak link.
 "This is the first time doing a 'crossover' that Rick and I are the guys setting the pace, so it's a definite challenge, unique from most projects I've dealt with so far."
Part of this role means that Moore got to be a voice in the room, helping to lay out the plot, a role he downplays.
"Every once in a while, I'd have a little tidbit that helped connect plot point A to plot point B, or smooth out something here and there," he explains. "I don't want to overstate my usefulness, but the sun shines on this dog's ass every now and again."
However, the assignment does have some familiarities to it to favor him. Moore helped launch the current VENOM series and has handled penciling duties on Marvel's favorite flaming biker, GHOST RIDER so he has some old friends to welcome him—sort of. For one thing, the owner of the fiery skull has changed a bit.
"Alejandra's a fun challenge, in that she's a leather-clad flaming skeleton, just like Johnny Blaze and Dan Ketch were when I drew them, but she's also a woman," Moore states. "It was tricky to try to keep her femininity intact, even when her flesh wasn't. Fortunately, I also got to revisit Johnny Blaze, who's always trying to hang around and keep her out of too much trouble, and it was nice to draw a familiar face as well."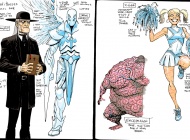 Circle of Four design art by Tony Moore
Moore also found his time away from VENOM to be helpful in better realizing the character in "Circle."
"Seeing Tom Fowler's take really helped me see how a smarter artist and better inker than myself would tackle all the problems I continually make for myself."
As for the two characters new to him, Red Hulk and X-23, the artist found they both held surprises and difficulties.
"Red Hulk was probably the most fun, but at first, I was particularly intimidated by the prospect, because Hulk is a huge icon in every sense," he confesses. "X-23 was also tricky. She has to be feral and gruff, like Wolverine's daughter/clone ought to be, but she also has to be a cute young girl. I tried to have her share some of the strong features I had put on Wolverine from when I drew him in PUNISHER, but temper them with youth and femininity so that she didn't just look like an angry cave-girl in a belly shirt."
Moore finds himself excited about the end results and expects fans will be as well.
"[We] wanted to impart some real creepiness to the main villains and the settings, but still keep with the ramped-up-crazy-over-the-top comic booking that Rick and I are known for. [We have] cooked up come crazy visuals as well, and I think we have delivered some pretty spine-shattering action in the mix."