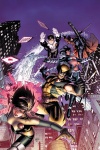 ASTONISHING X-MEN #48 cover by Dustin Weaver
On March 5, writer Marjorie Liu and artist Mike Perkins bring a new dimension to the Children of the Atom as the new creative team of ASTONISHING X-MEN beginning with issue #48! To get psyched for the impending mutation of one of Marvel's most popular titles, check out the sketch art below from Perkins of Wolverine, Gambit, Northstar, Iceman and the all-new
Warbird
!
ASTONISHING X-MEN #48
WRITER:
Marjorie Liu

ARTIST:
Mike Perkins
COVER:
Dustin Weaver
• New creative team! Best-selling author Marjorie Liu and artist Mike Perkins.
• The X-Men return to New York City, but it's not a social call.
• Don't miss the first chapter of what will be the most controversial story of 2012!

32 Pgs./Rated T+ …$3.99