By Ben Morse
Following the destruction of Asgard in Siege, Tony Stark vowed to rebuild the city of gods bigger and better than ever before. While Stark Resilient encountered a fairly major roadblock in the form of Fear Itself, Iron Man himself will at last unveil Asgardia in the pages of THE MIGHTY THOR #11 on February 22. 
While the Armored Avenger and his team of geniuses constructed Asgardia in the Marvel Universe, behind the scenes other visionaries labored to see it realized.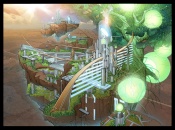 Asgardia by Pasqual Ferry
"[It came] straight from the fevered brain of madman Matt Fraction and the fantastic stylings of artist extraordinaire Pasqual Ferry," says MIGHTY THOR editor Lauren Sankovitch of Asgardia's real world roots. "When Matt dreamed up his scheme to bring Tony Stark's Resilient in to rebuild Asgard, he had a vision of fantasy meets high-tech, where repulsors and rock trolls could coexist and thrive. An Asgard for the future if you will. And with Pasqual's penchant for cutting edge environments and dreamscapes complemented by the stunning palette of [colorist] Frank D'Armata, he couldn't have had a better set of partners to bring this new cityscape to life." 
Besides the visual alterations, Asgardia, under the rule of the All-Mother, will house citizens from far and wide, not limited to the gods alone.
"Since we've fixed the World Tree on Earth, we've created a capitol city where denizens of all nine realms may reside," explains Fraction. "Everyone's in it together now, and the cast and flavor of the book is all the more diverse and varied for it. 
"The Nine Worlds aren't a ladder anymore but a wheel, with no top and no bottom, no paradise and no hell—and Asgardia is its hub."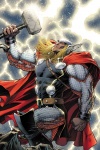 THE MIGHTY THOR #11 cover by Dale Keown
With Odin in self-imposed exile, the trio of female deities who have replaced him will use Asgardia to assert both their power and capability. 
"With the people of the Nine Realms only just familiarizing themselves with the new rule of the All-Mother, Asgardia is tangible proof that their new leaders can put their mythological money where their mouths are," says Sankovitch. "Having a rebuilt Asgard is a powerful symbol to the world that the All-Mother are a force to be reckoned with and one that looks out for its own."
The rise of Asgardia will be only one major event rocking THE MIGHTY THOR as the current arc, "The Mighty Tanarus," winds down, but its influence will be felt elsewhere as well, according to Fraction:
"Tony [Stark] has shown he can build a car and now a city for gods. What will Stark Resilient build next?"