Photos courtesy of WWE
By Blake Garris
You may know Mick Foley best as the WWE hardcore legend that competed under such monikers as Mankind, Cactus Jack and Dude Love, but did you know he also does standup comedy? That he gives most of his free time to charity work? And that he's a huge fan of The Hulk and various Marvel villains?
As he gets set to return to the ring in the WWE Royal Rumble this Sunday, we had the pleasure to speak with Mr. Foley about all this, a few choice words he had for Stan "The Man" Lee and much more.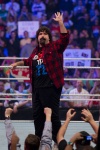 "Have a nice day"
Marvel.com: So first off, I hear you're really into Marvel comics from the 70's.
Mick Foley: Oh yeah, I was a serious Marvel fan. In order it would be INCREDIBLE HULK by far, and then CAPTAIN AMERICA, THOR, and AMAZING SPIDER-MAN was probably fourth. And then I had some other ones, you know, AVENGERS, DEFENDERS, a little SUB-MARINER. And just the odd thing; I think I have the first issue of GHOST RIDER somewhere in the Foley vault.
Actually I think I'm going to be putting some of those collections up for auction only because they've just been sitting there for so long and I think they're kind of unappreciated. And I have to feel somewhere out there someone will think that owning my collection of comics is a bigger deal than it is to me. I hope so.
Marvel.com: Any story arcs you remember loving as a kid?
Mick Foley: You know I went back and I read through quite a few of the comics a couple years ago and I realized what incredible storytelling devices they are in that they parallel wrestling to such an extent. In some books, granted, they were usually two or three parters. But you would have an origin, you would get heat on the heel, you would create him, get some heat on him, create the need for the super hero and then you'd usually get some heat on the super hero. And then you'd go to the next storyline where he'd make his big comeback. So it was very much to me like a wrestling match except there's more dialogue in comic book fighting than there is in wrestling. I think it takes a really supremely confident super hero to just create witty dialogue while they're dueling to the death.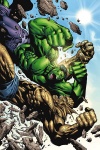 Hulk vs. Abomination
But I would say I always liked The Abomination, when he would come in. I guess I liked all those mutant gamma ray heels even though Doc Samson was kind of like what we would call in wrestling a tweener. I always liked seeing how characters evolved, how they were created, and I liked not having empathy for the bad guys but at least understanding where they were coming from. Because what I learned in wrestling, which gave me a greater appreciation for comic book bad guys, was that the most dangerous villain is the one who's convinced he's right. And the more warped the logic, the more dangerous he becomes as long as he believes it.
Marvel.com: What was your favorite all-time villain then?
Mick Foley: Like I said, I loved The Abomination. He wanted that power, he'd do anything to have it; he was really enamored of The Hulk when he saw how powerful he was. He wanted it so badly.
Marvel.com: Do you have any favorites of the Marvel movies that have come out recently?
Mick Foley: Yeah, I enjoyed "Captain America: The First Avenger." I liked the gritty feel; it was a nice view of the 40's. I liked the fact that they toned down his powers a little bit to make him more credible and that he only wore the tights when he was on the USO goodwill tour. And they kind of made the helmet work for him as opposed to just the mask. It's tough.
I had a chance to ask Stan Lee personally why he chose to make every woman just so voluptuous because I think there's a standard that guys can't live up to. You know, to me not every guy needed to be ripped. And then even like The Leader, he would be ripped. And I was like "Why? He's got the super intelligent mind, why does he need to be ripped?" In the same way that not every woman has to be like unbelievably statuesque and voluptuous. And he just looked at me and said, "Because that's what I like." So he's kind of like, you know, he is the Vince McMahon of comic books or Vince is the Stan Lee of wrestling. But essentially in both cases you see their image and you see what they like on the screen or on the page.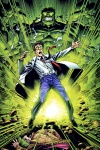 The Hulk
Marvel.com: Speaking of that, do you have any writers or illustrators you've been a fan of?
Mick Foley: Yeah, when it came to Hulk, Jack Kirby was the original one but I kind of came of age with the Herb Trimpe books. And my brother went to elementary school with John Buscema's son. And I was a year younger but I remember getting to go over to his house and John Sr. took me into his studio and he was drawing Thor at the time. And he gave me an original piece of artwork, and I've got an original John Buscema Hulk drawing at home as well. I've still got the poster, like from '75 or something, still had it up on the wall in the basement as little as two years ago.
Marvel.com: Have you ever thought of any stories for Marvel characters?
Mick Foley: I have not. You know, it's like Mr. Miyagi said, you stand on one side of the road you're fine, you stand on the other side you're fine, you go in the middle you get squashed like a grape. I don't know if I'd feel comfortable kind of tinkering with the classics. I think if somebody was going to do that, then they have to be all in. I don't want to be the guy who gets heat, as we say in wrestling. Somewhere along the line like when Hulk, he became just as wise or there was no difference when he changed from Bruce Banner. His level of intelligence stayed the same. And to me, that hurts the character. You know, that was the appeal to me. And you could see the influence that the different writers take because I like the Hulk of few words and some of them gave us a Hulk of many, many words. I never cared for those the same way.
Marvel.com: Have you read any of the comics lately?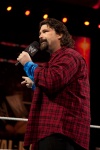 Mick Foley speaks to the WWE Universe
Mick Foley: Actually, I have not. I depend on those movies. And sometimes they do a great job, like the Spider-Man [films], especially the first two with the second one being every bit as good if not better to me than the first one. And a Doc Ock that people could empathize with but who was still clearly bad enough. Still he clearly knew he was doing wrong and did it, but felt he was justified; because those make for the best bad guys.
Marvel.com: You do so much good for so many people. Can you just give an overview of your charity work?
Mick Foley: I work with RAINN, which is the nation's largest anti-sexual assault organization. RAINN has a very pleasant acronym with very sober words: Rape Abuse Incest National Network. I'm a weekly volunteer on their online hotline and I'm a board member [on the] board of directors, which is crazy because I have no organizational skills. But I try to make up for it in enthusiasm. The other one I've been involved with now for almost 20 years is ChildFund International through sponsoring kids. And then when I had some really good years in wrestling, I was able to build some schools and do things that would have a lasting effect.
Can I point out here in the interest of full disclosure that when I do the Hulk collection, that money will be distributed to the Foley pizza fund? So I do occasionally have to give a little money to the kids so they can help me out.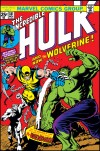 The first appearance of Wolverine
But I feel like the boy in "Toy Story," Andy. When Andy was trying to find a good home for his toys, he didn't want to throw them out but he didn't want to just put them in a box and he found a great home for them. So like I said, with The Hulk, these are things that really meant a lot to me, really meant a lot to me. But with one exception, I've taken them out of the box once in probably 30 years. I've got the [first appearance of Wolverine], I went through it and I was like "this is in really good condition" except for the fact that I snipped the Marvel trading stamp out of whatever page it was. It was 25 cents at the time, now it's worth like $500 mint condition. Mine is worth quite a bit less than that because of that one snip.
For more information on Mick Foley, where to donate or bid on his charity auctions, and when he'll be visiting your area check out www.realmickfoley.com. You can also follow him on Twitter @realMickFoley. You can see him in the Royal Rumble this Sunday on pay-per-view and learn more about the event by visiting WWE.com.