By Ben Morse
In his young Marvel career, Cullen Bunn has already written Asgardian warrior women, demigods fallen from grace and even Earth's Mightiest Heroes, but he'll face a figure like none even he has ever encountered when he assumes the reins of WOLVERINE alongside artist Paul Pelletier with issue #305 on April 25.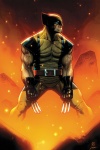 WOLVERINE #305 cover by Jim Cheung

"Of all the Marvel characters I've worked with, Wolverine's definitely the most 'down and dirty,'" shares Bunn. "His physical confrontations are up close, personal, and bloody. He's more visceral. I think Wolverine's a character most of us want to be like. His 'code' is pretty appealing. He stands up for what he believes in. He owns up to his mistakes and he tries to make amends. His friends can count on him when the chips are down.
"He doesn't start trouble unless there's no other choice. He doesn't flinch—and he doesn't take crap from anyone."
Bunn will follow Jason Aaron as the writer of WOLVERINE, when the latter concludes his three-plus year tenure as the character's primary shepherd in March with issue #304. The newcomer will take both inspiration and some existing plot points from his predecessor.
"Picking up right after Jason's amazing run is a little intimidating," admits Bunn. "Those are some pretty big shoes to fill. I've already started working on my beard, but it's not going too well, so I'm going to have to rely on storytelling.
"As daunting as following Jason might be, it also challenges me to up my game and do my hell-bent for leather best to tell the most entertaining Wolverine stories I can. Luckily, Jason did leave a ton of great characters and storylines to work with."
Right off the bat, Bunn will pick up a seed planted by Aaron and run with it into his own unique take on the world's most dangerous mutant.
"In my first arc, a particularly nasty villain from Jason's run resurfaces to plague Wolverine," he previews. "This puts Logan in a situation that, despite all his friends and teammates, he must deal with on his own. Along the way, he runs headlong into a gang of really fiendish ne'er-do-wells, each of whom is a pretty close match for [him] in the ferocity department. Both Wolverine's healing factor and mental wellbeing will be stretched to the absolute limits over the course of the first arc.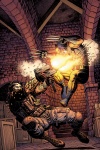 Wolverine vs. Crossbones by Art Adams
"For the first story, I wanted something that pretty clearly summarized who Wolverine is, where he's been, what he's been up to and what kind of stories I plan on telling in his world. I wanted to write something that honored and built upon the stuff Jason Aaron has been doing. At the same time, I wanted to make my mark, so to speak, and tell a story that was unique to my take on the character."
Moving through and even past his initial foray into Logan's life, Bunn looks forward to exploring every aspect of his complex psyche, and hopefully unearthing some undiscovered ones in the process.
"Coming into my first issue, it's an interesting time for Wolverine," he notes. "He's an X-Man and an Avenger. He leads X-Force and he's the headmaster of the Jean Grey School. He's a dyed in the wool killer, but he's trying his damnedest to protect a group of kids [and] teach them to be something different than what he became. He's a walking, talking exercise in dichotomy. That duality makes Wolverine pretty interesting.
"There are so many facets of Wolverine's background that haven't been explored at all. The potential for stories is limitless. I have some things planned for my second arc that will start scratching the surface of some of the less-familiar aspects of [his] personality and his past."
Greeting Bunn as he steps into his role as WOLVERINE writer will be a familiar face in artist Paul Pelletier, one of his collaborators from the soon-concluding 12-issue FEAR ITSELF: THE FEARLESS.
"I couldn't be more thrilled that [Paul is] tackling WOLVERINE with me," the writer shares. "Paul is a great visual storyteller. He handles action scenes and the 'quieter moments' with equal zeal. And after the stuff we put him through on THE FEARLESS, I know he won't shy away from the crazier, more intense elements of the story—and there are gonna be a lot of those."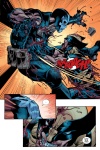 FEAR ITSELF: THE FEARLESS #7 interior page by Mark Bagley
Have we got you psyched enough that April 25 seems much too far away? Well, for a preview of Cullen's take on Wolverine and how he handles himself in a fight, look no further than FEAR ITSELF: THE FEARLESS #7, currently on sale, featuring a frenzied face-off between Logan and the villainous Crossbones.
"I liked the idea of putting two of the meanest, toughest hombres in the Marvel Universe in a no-holds-barred rumble," says Bunn. "That fight only lasted a few pages, but writing Wolverine was 100% as much fun as I had hoped it would be. So I'm really excited to have the opportunity to write some longer Wolverine stories.
"Obviously I didn't have much real estate in THE FEARLESS to explore Wolverine as a character, but I think those scenes are a good example of how I see [him] in a brawl: fast, mean, feral, and brutal."