By Ben Morse
This April, a clash over a decade in the making will rock the very history of the Marvel Universe when the Thunderbolts face none other than—the Thunderbolts!
The time-tossed current T-Bolts will touch down on the very day their predecessors formed the team in a three-part storyline by writer Jeff Parker and artist Declan Shalvey that kicks off April 4 in the pages of THUNDERBOLTS #172. The Fixer and Moonstone must confront their former teammates and past selves while the likes of Mister Hyde, Satana and Centurius find themselves face-to-face with Citizen V, Songbird, Atlas and more!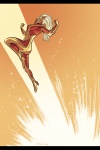 Meteorite sketch by Declan Shalvey
As we prepare for this titanic showdown, artist extraordinaire and longtime Thunderbolts fanatic Declan Shalvey has opened up his sketchbook so we can see his takes on the group founders and shared insight into his creative process.
Today, we've got a double shot with Meteorite and Citizen V. Current T-Bolt Moonstone donned the Meteorite guise in hopes of manipulating her way into power, and while the subsequent years have never fully gotten her out of the bad girl habit, certainly she's grown as a person somewhat. Citizen V represents the disguised Baron Zemo, mastermind of the original Thunderbolts scam and frequent thorn in the side of Captain America to this day.
"Ah, Karla. [Meteorite was] definitely the most complicated costume to draw out of all the original costumes. I studied the early issues, and found it hard to get a solid character model based on all the [original THUNDERBOLTS artist Mark] Bagley drawings so I had to draw up a model of my own to reference. I grew to really like drawing that headpiece though; kinda wish her current Moonstone costume had it."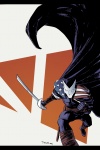 Citizen V sketch by Declan Shalvey
"This was the one character I wanted to draw the most. I loved the design by Mark Bagley. His face was particularly tricky to draw with that mask. I've seen some artists over-render the face to portray emotion, but I tried to make it as blank as possible; showing as little features as possible. Much more creepy. It might not be apparent, but when I designed Boomerang's T-Bolts costume last year, I had this Citizen V costume in mind. There's a little scene between both characters in this arc that was really entertaining to draw because of it. Though one look inspired the other, the two characters couldn't be more different." –Declan Shalvey
Stay tuned all this week for more glimpses into Declan Shalvey's Thunderbolts Sketchbook, and get psyched for THUNDERBOLTS #172, coming April 4!