By Ben Morse
When it comes to the ravages of war, even children can't escape the consequences.
Avengers Vs. X-Men will be no exception to the rule above, as AVENGERS ACADEMY enters the fray beginning with issues #29 and #30 in May, throwing the young students into a conflict bigger than any they've experienced while also bringing several familiar mutant faces into the series, and likely not to make friends.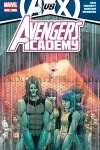 AVENGERS ACADEMY #29 cover by Giuseppe Camuncoli
"Avengers Academy is where the Avengers want to put the young mutants of Utopia when hostilities break out," explains AVENGERS ACADEMY writer Christos Gage. "They take them into custody and house them at the one facility they know that can handle an infusion of super-powered kids. It's a bit like Child Protective Services: 'You're not under arrest, you haven't done anything wrong, this if for your own good—but you can't leave.'
"Needless to say, there are plenty of folks who are none too happy with this turn of events. And if bringing them to Avengers Academy is intended to keep them out of trouble, it doesn't quite work out that way."
At the center of the chaos will be X-23, who recently enrolled in Avengers Academy, but has a long history with the X-Men, as the clone of Wolverine, a member of X-Force, and longtime resident of Utopia herself. Laura will find herself caught between classmates and friends past and present, but could also provide a potential bridge between the two.
"X-23 will be in the spotlight," asserts Gage. "She has a foot in each camp, so the war between the Avengers and the X-Men is naturally going to affect her more than anyone. She joined Avengers Academy in part because she wanted [nothing] of the Wolverine/Cyclops schism. Now she's caught directly in the middle of another war, and there is no avoiding making the choice this time around.
"You will also see Hazmat, Finesse and Mettle being very involved as well. The core Academy student's personal histories might well make them feel sympathetic with the mutant kids. But could they be sympathetic enough to turn against their own teachers and classmates?"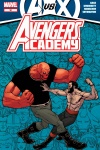 AVENGERS ACADEMY #30 cover by Giuseppe Camuncoli
As to who from Utopia will be crashing in Avengers Academy, Gage promises a wide array of guests previously featured in GENERATION HOPE, NEW X-MEN, X-CLUB and elsewhere across the mutant world.
"The Lights [from GENERATION HOPE] are not going to be too happy with the situation," says the writer. "I enjoyed writing [them], but I also had fun giving some screen time to less high profile mutants like Loa and Crosta. Madison Jeffries and Kavita Rao of the X-Men's Science Team will act as chaperones of a sort, and Hercules will be around as a guest teacher from the Avengers side. Oh, and he'll be naked. You're welcome."
One last visitor who could be a concern for Avengers and X-Men alike will be the once-leader of the Hellfire Club, Sebastian Shaw, who recently resurfaced amnesiac and seeking redemption in the pages of GENERATION HOPE. Gage teases that Shaw will go toe-to-toe with Hercules, Mettle and more.
"Given where [writer] James Asmus will be leaving [Shaw] as GENERATION HOPE concludes its run, he is most definitely a wild card," Gage notes. "[That is] if wild cards could absorb the energy of any attack thrown at them and beat you to a pulp."
Pick up AVENGERS ACADEMY #29 by Christos Gage and Tom Grummett this May to witness the beginning of an AvX tie-in you won't want to miss!