By Ben Morse
On March 14, Earth's Mightiest Heroes come together like never before as the stars of this summer's big screen blockbuster "Marvel's The Avengers" face a different kind of adventure in AVENGERS ASSEMBLE #1 by the celebrated creative team of writer Brian Michael Bendis and artist Mark Bagley. As we count down to this action-packed new ongoing series, over the next five days we will get Bagley's insider insight on bringing these characters to life and also debut exclusive art from the first issue!
AVENGERS ASSEMBLE may be share a cast with "Marvel's The Avengers," but it's set distinctly in the Marvel Universe comic book continuity. However, that doesn't mean even its creators don't get influenced by Earth's Mightiest big screen Heroes.
"It's hard to divorce ['Iron Man' and 'Iron Man 2' star] Robert Downey Jr.'s influence from my head when I draw Tony Stark," admits series artist Mark Bagley. "The good news is that I do terrible likenesses, so I couldn't make 'my' Tony look like Downey if I tried.
"But even before I saw the movies, I saw Tony as a happy go lucky chap with a rapier mind and a serious businessman's attitude. I'm gonna try and portray him as a generally affable fellow that you know you don't want to mess with, because he will outthink you and has shown he is willing to put up a fight if need be."
Likable or not, Iron Man has clashed with his fellow Avengers in the past, most notable when he and Captain America split their comrades down the middle in Civil War. Bagley doesn't expect events like that to ever truly be left in the past.
"I don't know if Cap really trusts [Iron Man] or his values," he says. "I see Stark as an alpha male in any situation but when around Cap and Thor—and he's confident enough in himself to be ok with that."
Though the artist feels he has a good handle on the man inside the armor, he confesses that depicting the Iron Man itself continues to be a learning process.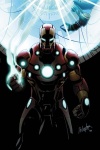 Iron Man by Salvador Larroca
"His new armor is beautiful—and really tricky for me to draw," says Bagley. "I'm still getting used to [it] and have three or four pieces of reference next to me when I draw it. It can be really sleek, but if you are not careful it can be really clunky looking. I find if I really concentrate on the body beneath the armor, then add the details later, it works out better for me. Though to be honest, that's true with most [art]: structure first, detail last."
Fortunately for Bagley, he has plenty of influences to turn to in the way of other artists he admires, including a couple contemporaries.
"When I was a kid I loved George Tuska's really underappreciated run on Iron Man," he recalls. "[John Romita Jr.'s] short run was amazing. And Stuart Immonen's depiction of the armor in FEAR ITSELF was a thing of beauty."
Check in one more time next week as we wrap up our look at AVENGERS ASSEMBLE with more exclusive art!