On March 14, Brian Michael Bendis and Mark Bagley reunite to bring the stars of "Marvel's The Avengers" together in AVENGERS ASSEMBLE. For the past week, we've been prepping you for this momentous gathering of Earth's Mightiest Heroes, and today we've got one last piece of exclusive Bagley art from issue #1 as well as a full guide of our coverage to date.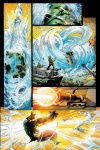 AVENGERS ASSEMBLE #1 preview art by Mark Bagley
In AVENGERS ASSEMBLE #1, a myserious new Zodiac make their first appearance, with goals and schemes that will have far-reaching consequences across the Marvel Universe. The first obstacle they encounter:
The Incredible Hulk
! Get your first look at the three way fracas between
Hulk
, Zodiac and the military in the Mark Bagley-drawn page to the right.
If you missed our Assembling the
Avengers
series last week, where Mark Bagley broke down his process for approaching each AVENGERS ASSEMBLE character, including influences and insight into how he sees their personas, check out all the installments:
Captain America
The Hulk
Black Widow & Hawkeye
Thor
Iron Man
We also hosted a
Next Big Thing liveblog
where Brian Michael Bendis, Mark Bagley and Tom Brevoort joined in to discuss everything AVENGERS ASSEMBLE from the way the series came together, to how various characters will interact, the long-ranging plans reaching beyond the Avengers and much more. Check it out
here
.
Finally, in the gallery below, you can see inked art and color pages from AVENGERS ASSEMBLE #1 as well as covers to upcoming issues.
Take it all in and get ready to hit the front lines with Earth's Mightiest Heroes in AVENGERS ASSEMBLE #1 on March 14!