By Jim Beard
Marvel Comics pauses a moment to remember the late John Severin, an artist whose finely-detailed work made an indelible mark on a generation of fans and peers alike.
His career kicked off at the tender age of 10 when he sold cartoons to a newspaper and from that point on he never stopped drawing and creating. Severin fell in with fellow High School of Music and Arts students Will Elder and Harvey Kurtzman to work at an advertising studio in the 1940's. There he honed his sense of design and got a glimpse at the world of Timely Comics through Kurtzman's eyes. Finally, the famous team of Joe Simon and Jack Kirby gave the young artist a chance at their Crestwood publishing company where he worked uncredited on several comic stories.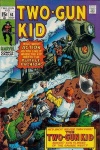 As with many artists of that era, Severin drew primarily in the Western, war and romance genres, the former two lending him the experience he later used to become established as a master of those themes. Along with Elder and Kurtzman, he inaugurated a legendary publication at the infamous EC Comics in the 1950's: Mad Magazine. That and his other works gained him a reputation for being able to accurately portray not only historical periods and their costume and dress, but also ethnic types.
After the demise of EC in the late 1950's, Severin gravitated to Timely Comics' successor, Atlas Comics, which gave him work and put him in a spot to witness the 1960's birth of Atlas' successor, Marvel Comics. There, as an inker and a penciler, he made history on such titles as SGT. FURY AND HIS HOWLING COMMANDOS, INCREDIBLE HULK, CONAN THE BARBARIAN and KING KULL. Severin's art partners at Marvel included his sister Marie Severin, Dick Ayers and Herb Trimpe.
Severin continued to work at Marvel into the 1970's and was also contributing to Warren Publications magazines and became a prolific artist for Cracked. With the new millennium, when other artists of his era would be content in their retirement, Severin sought out new projects and new challenges. After some Western work for DC Comics, in 2003 Severin returned to Marvel and a character he'd worked on in the 1950's, The Rawhide Kid.
John Severin will be remembered for his humble authenticity, both in his art and in his life. His many collaborators and editors knew him as a dependable professional who brought an ease and style to his work that stands today as the greatest testament to his talent. His fans know him as an artist who defined both genres and an era.