By Tim Stevens
Brian Braddock is an adult male who appears to be in top physical condition. He has lived most of his adult life as Captain Britain, a national hero in the United Kingdom whose roles include not only being a figure of inspiration and a protector of the population from super powered crime, but also a steward of the magics that seem to reside within the country.
Braddock has chosen to see this writer at the urging of Steven Rogers, Captain America, in preparation for his role on a covert team of Avengers.
A scientist at heart, the client spent many years torn between the idea of being a super hero and pursuing his first love. This struggle appears to have been resolved, according to both his explanation and actions, with his role as Captain Britain definitively winning out. It is not for this writer to say what a loss this may or may not be for the world of science, but it is certainly a gain for those counting on Captain Britain, as the more confident Braddock is in his role, the more power he possesses. This is not simply a matter of more confidence leads to a better attitude leads to a more productive crime fighter, but rather a literal one to one relationship. As his confidence rises so too does the client's power level and mastery of his abilities.
Of course, this can and has represented a significant danger in combat as well. If a situation appears dire or if the client makes an error while engaging an enemy, it may be easy for him to be shaken causing him to lose power. He may notice this loss further his lack of confidence which again causes him to lose power. From there, it is easy to see how the situation can become a self feeding loop. On the other hand, the inverse is also true. The better he does, the more confident he will become, the more powerful he will become giving him the ability to do even better to become even more confident to become even more powerful and so on. It is unclear if there is an upper ceiling or lower floor to this relationship.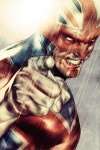 The client has experienced some past traumas, including the transplanting of his sister, Betsy Braddock's psyche into the body of an Asian assassin, creating the X-Man known as Psylocke, the death of his wife Meggan—now resurrected—and his own seeming demise at the hands of such figures as the White Rider and Mad Jim Jaspers. However, these events, like the tension between hero and scientist, appear to be largely in the past and not bearing any weight on him at this time. Overall, the client appears to be psychologically healthy.
Given the nature of his power set, it is the assertion of the staff that Braddock's feature therapeutic sessions focus on confidence building and distress tolerance exercises to limit the effect temporary setbacks might have on his self image.
Brian Braddock is next scheduled to meet with Doctors Rick Remender and Greg Tocchini on February 22. Further information on that session will be available in file UNCANNY X-FORCE #22. After that, on March 28, he has another appointment with Doctor Rick Remender this time working with Doctor Gabriel Hardman. Their session notes will be located in the file labeled SECRET AVENGERS #23.
Psy D. Candidate Tim Stevens, MA is a Practicum Trainee at a community mental health facility and a Dialectical Behavior Therapy Consultant.