By Tim Stevens
Daniel Rand is an adult male who appears to be in excellent physical condition. The client has served as the largest single shareholder and President of Rand International for years. Despite the company's recent setbacks and its seeming dormancy, the client does still hold ownership of the name and has access to its, now admittedly less extensive, assets. Rand has chosen to focus on the Thunder Dojo, an outreach program that educates inner city youth in the philosophies of martial arts and works to improve the community.
The other activity that consumes the client's time is his role as Iron Fist, the well known street vigilante and apparent champion of the mystical realm known as K'un L'un. What the latter role entails is admittedly fuzzy to this writer, but it is a designation, according to the client, of both great honor and responsibility.
In addition to his recent corporate struggles, Rand has experienced significant upheaval in his life as of late. A longtime romantic relationship with a woman named Misty Knight was derailed by the revelation that a pregnancy was not real, but rather psychosomatic. They both chose to no longer live together, but pledged to remain in a committed relationship. However, even this proved untenable shortly there after, and the two decided to end things on good terms. The client is insistent that they still care for one another, but that a relationship between simply does not work at this time.
Rand has cultivated a mentor-mentee relationship, however, with Victor Alvarez, the newest person to bear the moniker of Power Man. It is a rocky bond, but both have been working on improving it with staff here.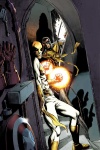 The source of Rand's abilities has also recently been altered. While he remains connected to K'un L'un, he also has interacted with and developed some connection to the mystical object known as the Eye of Agamotto. In what ways this has changed the client, if at all, is unclear at this time. While his Avengers and Defenders teammate, the sorcerer Doctor Strange, has expressed his concern regarding this several times, the client himself insists he is unconcerned about it. He claims he has noticed no significant negative effects to his skill set, his physical being, or his emotional state. He does endorse feeling different in general, as though he is tapping into an even bigger pool of power than previously and that he senses something even stronger just beneath the surface. Given his personal experience of this new connection, Rand had little regard for beliefs on the matter. Thus, he asserts that there is no need to discuss or investigate the Agamotto connection in this format.
Instead, the client simply is in therapy as a check-up of sorts. He has informed this writer that, as an "immortal weapon," it is important that he keep himself as healthy physically, mentally, cognitively, and spiritually as possible. Therefore, he utilizes all resources available to him, be they borne of Western or Eastern medical philosophies.
While this is indeed admirable, the client appears disinterested in delving into any material in therapeutic sessions. He is short and clipped when it comes to questions regarding the "loss" of his unborn child or his current connection to Ms. Knight. He has blown off Strange's concerns even though Rand was initially the one to bring them into the room. Thus, despite a seeming openness to the idea and possibility of therapy, the client continues to act in ways that make personal exploration and potential growth unlikely.
In order to see if it is simply a matter of fit between this writer and the client that is interfering with his willingness to commit to the therapeutic relationship, Daniel Rand has agreed to see Doctors Brian Michael Bendis and Mike Deodato for his next appointment. It is scheduled for April 25 and all session notes can be found in file NEW AVENGERS #25. On May 2, he will have another follow-up with Doctors Matt Fraction and Victor Ibanez; notes will be available in file DEFENDERS #6.
Psy D. Candidate Tim Stevens, MA is a Practicum Trainee at a community mental health facility and a Dialectical Behavior Therapy Consultant.