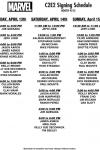 Booth Signing Schedule
Marvel takes Chicago by storm during C2E2 2012, from April 13-15! 
If you're a True Believer--and we know you are--you can't afford to miss out on the Marvel panels! Trust us, no fan will be disappointed because whether you're a lifelong Marvelite or a casual fan, there will be something for you to enjoy.
Sign up for all the liveblogs below and follow along with each of them either at our
C2E2 2012 Liveblog Hub
or on
Facebook
!
And if you can't join us at C2E2, don't fret! Below you'll find links to all of our
panel liveblogs
, and our
C2E2 2012 hub page
will contain all the Marvel news, info, photo, videos and more!
FRIDAY, APRIL 13
Marvel: House of Ideas Panel
Love having the best comics in the industry on your mobile devices? Want to know how Marvel stays on the cutting edge of technology while bringing you fans what you've come to love? Well this panel is for you, True Believer! Get exciting news on what's happening on the Marvel Comics App, Marvel Digital Comics Unlimited and more in this can't miss panel.
4:00 p.m.-5:00 p.m. Central
Room S401abc
Breaking into Comics the Marvel Way Panel
Are you a writer or artist?  Ever dream of working for Marvel?  Do you find yourself thinking "I could do that…if I knew how!"  Well, here's your chance!  Join C.B. Cebulski, Marvel's Senior Vice President, Creator & Content Development, and a whole host of special guests to find out the answers on how to get your foot in the door at every level in the creative process and how to make your job MARVEL.
6:30 p.m.-7:30 p.m. Central
Room S401abc

SATURDAY, APRIL 14
Amazing Spider-Man Panel
The adventures of Spider-Man are taking readers to the Ends of The Earth! The Sinister Six, led by the vengeful Doctor Octopus, is back and they're looking for revenge! Find out all the details right here! That's right, True Believers, creators Dan Slott (AMAZING SPIDER-MAN) & Ryan Stegman (SCARLET SPIDER), along with Marvel's Editor in Chief, Axel Alonso, will be taking any and all questions from YOU the fans! With earth-shattering announcements that will change the life of Peter Parker forever, this is one panel that no Spidey fan can miss!
11:00 a.m.-12:00 p.m.
Room S402ab

Avengers vs. X-Men Panel
 Following It's Coming — this April the War Is Here in Avengers vs. X-Men! All your favorite super heroes enter — and only one team will emerge victorious!  You've got questions & these people have answers! Writers Jason Aaron (WOLVERINE), Rick Remender (SECRET AVENGERS), Editor in Chief Axel Alonso and more are on hand to lay out what's going on with the epic battle between The Avengers & The X-Men!
12:15 p.m.-1:15 p.m.
Room S402ab

Marvel Television Presents Panel
Go inside THE TV destination for your favorite Super Heroes, Marvel Universe on Disney XD, with Head of Marvel Television, Jeph Loeb!  Get a sneak peek at never-before-seen episodes of Ultimate Spider-Man and The Avengers: Earth's Mightiest Heroes season 2.  Plus, you'll get the latest inside scoop on animated and live-action series in development, and more surprises from Marvel TV. 
2:45 p.m.-3:45 p.m.
Room S402ab
Cup O' Joe Panel
This is it, Mighty Marvel fans the no-holds-barred, anything goes, full of surprises panel you wait all year for, and it's here!  Marvel's Chief Creative Officer Joe Quesada takes on all questions, shocks the audience with jaw-dropping announcements, and keeps you guessing with surprise guests.  You never know who will show up, but you better be here, because this is the panel that everyone will be talking about!
5:15 p.m.-6:15 p.m.
Room S402ab

Ultimate Comics Universe Panel
Peter Parker is dead, Reed Richards is the ultimate villain and the X-Men are in concentration camps! How can the Ultimate Universe get any worse?  Find out here as the creators behind the Ultimate Comics Universe answer your questions and let you in on what happens next! Join writer Sam Humphries (ULTIMATE COMICS ULTIMATES), Editor in Chief Axel Alonso, and more as they shed some light on the future of the Ultimate Comics Universe!
11:00 a.m.-12:00 p.m.
Room S401abc
Next Big Thing Panel
From the Marvel U to the Ultimate U and everything in between, we've got the top talent on hand to talk about all of your favorite heroes and villains as well as make a few surprise announcements!  Panelists include James Asmus (GENERATION HOPE), Dennis Hopeless (X-MEN SEASON ONE), Kelly Sue DeConnick (CASTLE: STORM SEASON), with Marvel Editor in Chief Axel Alonso and more as they take on all questions! 
1:30 p.m.-2:30 p.m.
Room S401abc
Can't make it to the convention? Follow along with our liveblogs and visit
Marvel's C2E2 2012 hub
. And don't forget the 
Marvel Events App
 & 
events.marvel.com
, the best way to get exclusive videos, real-time announcements from the convention floor and up-to-the-minute panel, in-booth and signing schedules of all your favorite Marvel creators!