By Ben Chabala
Every week we'll pick a handful of awesome comics from the thousands available through Marvel Digital Comics Unlimited. From creator spotlights to editor's picks and more, this'll be your spot to find something new and cool.
Jason Aaron's awesome run on the mutant known as Logan comes to an end this week with WOLVERINE #304. Here at Unlimited Highlights we've prepared some of the best and most brutal issues that Jason's written to date. Watch Wolvie do what he does best in five stories sure to knock your socks off.
Wendell's just a normal guy. He wakes up, drinks a cup o' joe, and goes to work. At work he sits in a nice comfy chair in front of a pit. In the pit sits a man. Wendell shoots the man with a massive machine gun until his shift ends. Who's the man in the hole? Who pays Wendell to shoot him? What will happen if he ever gets out? Read Jason Aaron's first story on the WOLVERINE solo title right here!
Mystique betrayed the X-Men and now Cyclops wants her dead, which just so happens to be music to Wolverine's ears. He tracks the shape shifting seductress across the Middle East, over barren mountain ranges and blazing deserts, a host of bodies left strewn in his wake. He finally catches up to her in Palestine, but before he can pop his claws the local militia shows up and…well you can probably guess the rest. Bullets and blood fly as Wolvie's hunt for Raven Darkholme continues!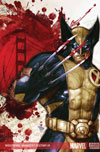 Logan really knows how to make quality enemies. Weapon X, Sabretooth, Omega Red, the Hand, HYDRA—the list goes on and on. Well it just so happens that back in the day he made himself an entire neighborhood of enemies in San Francisco's Chinatown, a community in which nearly every single man, woman, and child wants him dead. So what does our favorite mutant do when the X-Men move to the City by the Bay? He strolls right back in, announces himself, and gets one of the worst beat downs of his long life. He gets his soul punched! Who's The Black Dragon and what did Logan do to make her so mad?
Eerie, dilapidated and sublime, the Dunwich Sanitorium gives off an aura of madness. Inside it only gets worse. Logan wanders the dank and dirty hallways lost and confused. How did he get here? Why can't he remember who he is? Does he hear screams at night and…chainsaws? Introducing the all-new, all-insane Dr. Rot and his carnival of crazy!
Leave it to a couple of cannibals to ruin a perfectly good surprise birthday party. What might have turned into a really nice evening amongst friends becomes something far more unsettling. Instead of singing karaoke and watching Deadpool puke, Wolverine spends his evening getting shot in the face with a tooth gun. Just goes to show that real heroes never take a day off, not even on their birthdays.