By TJ Dietsch
Like the changing of the guard that happens so regularly in the pages of DEFENDERS, the creative team will shift with issue #7 when Jamie McKelvie over as the regular artist.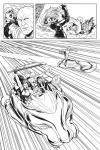 DEFENDERS #7 inked preview art by Jamie McKelvie
"His ineffable, animate, vibrant style [is] unlike anything or anyone else in comics these days," Fraction says of his new collaborator, who replaces previous series artist Terry Dodson. "We might have lost a Terry, but we gained a McKelvie. I love that Jamie is in a place right now where every page he does is better than the last. His craft and idiom and skills are just folding light and gravity into their center as he becomes, every day, more and more of a monstrous talent. I'm just enjoying playing what-if, in other words, and trying to think what I'd want to see him draw. 'Ooh, how would McK handle this?' is a fun place to start. I'm a Jamie fan, getting to write stories that, as a Jamie fan, I want to see."
The admiration society goes both ways between writer and artist in this case as McKelvie described working with Fraction as "awesome."
"We've worked before on shorter stories, but this is our first ongoing," he says. "It's different this time, too, as Matt's writing plot-style. It's more challenging but I'm enjoying the opportunity to play around with the storytelling, picking the beats, choosing the moments. It feels like more of a true collaboration, in a way." 
For his part, McKelvie explained his excitement at moving from a longer-term project like X-MEN: SEASON ONE to a monthly series.
"Work wise, it's not all that different from SEASON ONE, but that all came out in a big chunk a while after I finished it," he notes. "It's going to be fun having the story come out every month." 
The artist also spoke about the pleasures and difficulties he came across while tackling such a variety of characters in his first few DEFENDERS issues.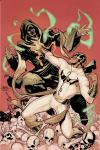 DEFENDERS #7 cover by Terry Dodson
"I love drawing Iron Fist—his mix of goofiness and kung fu skills make for some fun drawing," McKelvie shares. "Also, I'm a huge fan of Matt and Ed [Brubaker]'s run on the character's own comic [IMMORTAL IRON FIST]. Silver Surfer's a hard one to get the hang of, I think—maybe because he's so streamlined in design, if it's wrong, you can see it immediately. He's a challenge. But I wouldn't want to think it was all easy; part of the appeal of working in comics is always trying to push myself and improve." 
Fraction has McKelvie drawing more than just the main members of the team in July's DEFENDERS #8, as he tasks his artist with tackling the very origins of the Concordance Engine, the main focus of the series up to this point.
"There's a lot of flashbacks, a lot of character design from different eras and so on that I had to do," McKelvie notes. "I'm getting to draw stuff I've never drawn before, which is always interesting."
"We get to see the secret history of Marvel super heroes, the origins of the Concordance Engine, death, madness, genocide, a city of bone, frogs, and the obliteration of the Defenders themselves," Fraction elaborates. "So, y'know. Samo-samo."
Visit Marvel's C2E2 2012 hub. And don't forget the Marvel Events App & events.marvel.com, the best way to get exclusive videos, real-time announcements from the convention floor and up-to-the-minute panel, in-booth and signing schedules of all your favorite Marvel creators!