By Ben Morse
Every week we'll pick a handful of awesome comics from the thousands available through Marvel Digital Comics Unlimited. From creator spotlights to editor's picks and more, this'll be your spot to find something new and cool.
It's a big week for Jen Walters, the original She-Hulk, as she hangs with our favorite wall-crawler in AVENGING SPIDER-MAN #7 and joins the AvX conflict with X-MEN LEGACY #266, both available now in print, on the Marvel Comics app and through the Marvel Digital Comics Shop. Take a look back at the savage, sensational career of the Jade Giantess with us this week in Unlimited Highlights!
A tragic accident leads to the birth of a new hero in the Marvel Universe! On the verge of taking down Los Angeles crime lord Nicholas Trask, crusading lawyer Jennifer Walters gets ambushed by his crooked henchmen and left for dead. Fortunately for Jen, her cousin Bruce Banner happens to be in town—unfortunately for Trask and his cronies, Bruce also answers to the Incredible Hulk! One blood transfusion later and L.A.'s got a She-Hulk on its hands, looking for justice and out of control!
The Sensational She-Hulk has joined the Fantastic Four and become a beloved fixture of the New York super hero scene, but some folks want to take advantage of her popularity and free spirited nature. When the editor of "The Naked Truth" gets a hold of some…compromising photos of Shulkie, there's no telling what lengths he will go to in order to make a buck. Can Jen keep her cool? Will her burgeoning romance with Wyatt Wingfoot survive this scandal? Will The Human Torch ever see the pics?
Anybody knows that She-Hulk's always up for a good time, but unfortunately her wild partying ways just got her the boot from Avengers Mansion, leaving our favorite Gamma gal with no place to live and no way to bring home the bacon. On the bright side, Jen Walters still has her legal license, and a prestigious firm focusing primarily on super hero law could use a lawyer who looks good in green. A new era begins, featuring Captain America, Iron Man, Hercules, The Wasp and the menace of M.O.D.O.K.!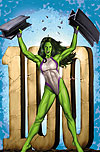 She-Hulk reaches one hundred cumulative issues of solo series adventure and celebrates with the trial of the century—except she's the defendant! The Time Variance Authority has accused Shulkie of crimes against the timestream following her efforts to save a fellow Avenger from his grisly fate, and the sentence staring her down should she lose would be erasure from existence itself. Representing herself, Jen must call upon all her expertise as well as a gallery of star witnesses from Razorback to Howard the Duck in hopes of remaining a part of reality!
The Hulk's daughter from the future, Lyra, may be new to this era, but she's fortunate enough to have a sensational mentor in the form of Jen Walters, aka the original She-Hulk. But aside from adjusting to high school and other challenges, the She-Hulks almost join forces to hunt down the remaining members of the Intelligencia, beginning with The Wizard! Will Hulk's girls make him proud or have his smartest foes set the perfect trap?