By Tim Stevens
Carol Danvers is an adult female who presents as being in excellent physical shape. Danvers has served as a member of the team of super powered crime fighters known as the Avengers as Ms. Marvel until very recently. Currently, she remains connected with the organization but has opted to call herself Captain Marvel, perhaps an acknowledgement of both the man who had a role in empowering her as well as her growth as a hero. She has not yet visited the topic with this writer and has so far declined to discuss it.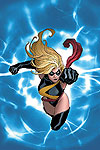 The client has a long relationship with this office in general, and this writer in specific. Her life has been a difficult one marked by several traumatic experiences. First amongst these are the explosion that resulted in a change in her very physiology, a loss of some of what made her human and the inclusion of that which made her at least partially alien. As a woman in the Armed Services at a time when resistance to females in such roles was strong, this was yet another barrier separating her from her fellow soldiers.
That alone would be difficult, but, unfortunately, the client would continue to experience shocking moments of disturbance, physical and emotional. It began with a complex incident involving kidnapping, inter-dimensional travel, and mental manipulation led to her giving birth to the man who would grow up to be her abductor. Finally escaping that situation, her powers, memories, and personality where almost immediately absorbed by the then-mutant outlaw Rogue. She gained new, more powerful gifts, but only after being experimented on by a hostile alien race, the Brood. In addition to the physical pain, she had to contend with the lack of knowledge about their ultimate plan for her, be it to kill her, to use her as an incubator, or something else entirely.
Eventually, these powers were lost too, although in what Danvers labels a thankful result, her old abilities seemingly returned at the same time. However, old talents or not, the up and down nature of her life had taken its toll. She turned to alcohol for solace and quickly lost control of her drinking, nearly costing her a spot on the Avengers and several friendships in the bargain.
Accepting her alcoholism as reality, though, seems to have proven to be a turning point in the client's life. She has been able to repair and improve her bonds with several of her fellow heroes, rise in prominence and responsibility, and generally increase her self acceptance. Her alcohol dependence is in long-term remission but she continues to work on it, pay attention for triggers, and seek out one of her sponsors when she feels the desire for relapse begin to rise. Her continued commitment to therapy speaks to her desire to not just "fix" symptoms but to explore the underlining causes and address them.
While, as noted, this writer cannot speak to her choice to change her costume identity once more, it does seem to be a mature choice that indicates further personal growth. The staff here is very excited for Danvers' newest transition and to see what it means for her going forward.
Carol Danvers' next appointment is set for July 18 with Doctors Kelly Sue DeConnick and Dexter Soy. Please seek it out under file name CAPTAIN MARVEL #1.
Psy D. Candidate Tim Stevens, MA is a Dialectical Behavior Therapy Consultant and Practicum Trainee at a community mental health center who has experience working with individuals with co-occurring disorders, including substance abuse and dependence and trauma.