By Jim Beard with Ben Morse
50 Years ago, Tony Stark became Iron Man, a historic milestone in the tapestry of the Marvel Universe.
Flash forward half a century, and the Armored Avenger has become a worldwide sensation. Beyond his prominent role across the Marvel Comics line, Shellhead hit the big screen in 2008 as Robert Downey Jr. brought Tony Stark to life in the first "Iron Man" movie. The character's popularity grew in 2010's "Iron Man 2" and 2011's "Marvel's The Avengers."
On May 3, 2013, Tony Stark returns to theaters everywhere in "Iron Man 3." In anticipation of this momentous occasion and to celebrate Iron Man's 50th anniversary, each week Marvel.com will be bringing you another chapter in the history of this complex and beloved character. Year by year, get an in-depth rundown of the trials, foes and experiences that have made Iron Man the hero he stands as today.
You can start here.
Also, be sure to visit the Marvel Digital Comics Shop and Marvel Digital Comics Unlimited to read 50 years' worth of Iron Man adventures!
The 1960's ended with a bang for Iron Man, with 1969 delivering more new adversaries, more worrying heart concerns and a femme fatale that Tony Stark would never forget.
How about starting the year with both The Mandarin and The Hulk? IRON MAN #9 saw the infamous master villain utilize a robot version of the gamma-spawned green behemoth to cause more trouble for his old enemy. Stark himself had a lot on his mind with an impending merger between his company and that of his new girlfriend, Janice Cord, but that paled in comparison to his major new problem: The Mandarin figured out that Stark and Iron Man existed not as two separate people, but as one.
Fake photos of Tony Stark surfaced in IRON MAN #10, a situation which led to Iron Man on the run from the government agency S.H.I.E.L.D. and trying to clear the good name of his "boss." A showdown with The Mandarin in IRON MAN #11 forced our hero to trick the villain with a phony secret identity—a mask worn under his helmet—and to bear witness to the heart-stirring sacrifice of the Mandarin's ally Mei Ling for the life of Janice Cord.
And somehow, in the midst of all the turmoil, Iron Man also managed to slip away and attend the marriage of the winsome Wasp and chest-thumping Yellowjacket in AVENGERS #60.
Basil Sandhurst, brother to the man who handled Janice's financial affairs, became The Controller in IRON MAN #12. Able to absorb life-giving energy from those he artificially controlled, the creepy criminal kidnapped both Stark and Janice, but they escaped in IRON MAN #13 and the Armored Avenger zoomed off to insure the ne'er-do-well didn't reach New York City and the millions of energy-rich citizens therein.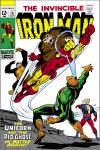 A quick stop-over in Haiti introduced Iron Man to The Night Phantom and the inevitable Janice Cord abduction, as seen in IRON MAN #14. Seems Tony's new flame just couldn't stay out of the clutches of villains. Alas, our hero then faced off against a new Ultron, the most evil automaton of all, in the pages of AVENGERS #66 and #67, a warm-up to his bout with a returned Unicorn and his new partner, The Red Ghost in IRON MAN #15. Everyone came to blows over Stark's Cosmic Ray Intensifier, but in the end the Golden Avenger found himself teaming up with the Unicorn against the Ghost and his super apes to win the day.
Remember Whitney Frost? The beautiful businesswoman who just happened to also be the leader of the criminal Maggia organization, Big M? Well, she popped up again in IRON MAN #17, this time as the mysterious Madame Masque and working alongside Midas, a man who coveted the entire Stark fortune. He replaced Tony with an artificial imposter, a Life Model Decoy, and put the former millionaire out on the mean streets, penniless. The LMD got his in IRON MAN #18, courtesy of a S.H.I.E.L.D. raid on Stark Enterprises and a very large—and hot—smelting pot. First, though, it donned the Iron Man armor, forcing Tony to once again strap on his old original suit and give everyone a taste of a classic Iron Man vs. Iron Man battle.
That story led into AVENGERS #69, a strange saga of Kang, the time despot, and his struggle against the alien Grandmaster. Stark sat on the sidelines for that one, but leapt into the fray with all repulsors firing in AVENGERS #70 to aid his teammates against the Squadron Sinister, a collection of bad-to-the bone super humans. Then, back over in IRON MAN #19, he went under the knife for some serious heart surgery and walked away with a new synthetic heart—maybe that explains his locking lips with Madame Masque.
The year wrapped up with IRON MAN #20 and the criminal known as Lucifer, who struck out at an innocent man from his other-dimensional prison to gain a body to manipulate in our world. Our hero fought his way through that one as valiantly as ever, and then turned to face new challenges in a new year and new decade.
Check out IRON MAN (1968) and AVENGERS (1963) on the Marvel Digital Comics Shop, plus more Iron Man is available to subscribers of Marvel Digital Comics Unlimited.