By Tim Stevens
Melissa Gold presents as an adult female of above average physical fitness. The client is a convicted felon who performed those acts under the criminal identity "Screaming Mimi." Her criminal record is under consideration for expunging due to her role in the super criminal redemption program known as the Thunderbolts. She has been a part of the team since before it was brought under government in the guise of "Songbird" and even served as its leader for a period.
It is this latter role that has brought her into therapy. As stipulated by the contract that she signed with the government, in addition to her time on the Thunderbolts she was required to attend weekly individual sessions and bi-weekly group sessions with other former criminals who are making an effort to reform and not return to crime or prison. Her attendance of both individual and group sessions is considered voluntary as she can technically reject one or both. However, doing so would result in the elimination of her from consideration for having her record expunged and most likely a return to general population incarceration. It is important to consider this in reviewing these notes and working with the client as, in many ways, her attendance is being compelled, not freely given.
Having noted this, after some initial hesitance, especially around the topic of confidentiality, Gold has seemed open to building the therapeutic alliance. In session, she presents as listening and involved, although sometimes her answers to this writer's inquiries seem either less than truthful or very brief so as not to divulge too much.
However, this is not inherently a negative. The client has undergone significant traumas in her life dating back to childhood and not fully disclosing or disclosing just enough to seem cooperative are undoubtedly techniques she has utilized in the past to protect herself, both physically and emotionally. However, like many coping skills utilized during times of great pain and stress, they can also prove unhelpful when applied to all situations, cutting off people from those who can help as well as those that aim to hurt.
This is where therapy is currently focused, aiding the client to develop a set of skills that are helpful and healthy, and to learn how to appropriately assess the situation or stressor to evaluate which skills would be most effective to the client. In particular, both parties are dedicated to reducing the role of "Mimi," as Gold has nicknamed her hard, cold, but assertive "personality." (Please note, "personality" here is used colloquially and not intended to indicate the client has Dissociative Identity Disorder).
Instead, this writer and the client agree that the best aspects of "Mimi,"—her assertiveness, her ability to survive high pressure situations relatively psychologically unscathed— could be separated from the negatives—cruelty to others, inability to emotionally connect with others, criminality—and paired with more positive traits to promote a Melissa Gold that is capable of both strength and caring, assertiveness and appropriate emotionality, someone who stands up for what she believes in while still adhering to the law.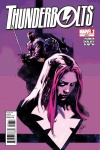 Recent upheavals that have left the client unsure of her place with the Thunderbolts paired with an assault and kidnapping have obviously delayed the process. Rather than force the sessions to continue to adhere to the therapeutic goals blindly, this writer has bent and allowed the past few sessions to focus on these more pressing and present events while still tying back feelings and experiences of the client during this difficult time to her overall goal of a healthier more integrated self.
Melissa Gold is next scheduled to see Doctors Jeff Parker and Kev Walker on September 5. Their report will be available in the filed designated DARK AVENGERS #180.
Psy D. Candidate Tim Stevens, MA is a Dialectical Behavior Therapy Consultant and Practicum Trainee who has experience working with individuals convicted of a felon who are seeking to improve both behavior and their state of mind.