By Jim Beard with Ben Morse
50 Years ago, Tony Stark became Iron Man, a historic milestone in the tapestry of the Marvel Universe.
Flash forward half a century, and the Armored Avenger has become a worldwide sensation. Beyond his prominent role across the Marvel Comics line, Shellhead hit the big screen in 2008 as Robert Downey Jr. brought Tony Stark to life in the first "Iron Man" movie. The character's popularity grew in 2010's "Iron Man 2" and 2011's "Marvel's The Avengers."
On May 3, 2013, Tony Stark returns to theaters everywhere in "Iron Man 3." In anticipation of this momentous occasion and to celebrate Iron Man's 50th anniversary, each week Marvel.com will be bringing you another chapter in the history of this complex and beloved character. Year by year, get an in-depth rundown of the trials, foes and experiences that have made Iron Man the hero he stands as today.
You can start here.
Also, be sure to visit the Marvel Digital Comics Shop and Marvel Digital Comics Unlimited to read 50 years' worth of Iron Man adventures!
A new decade spells dire tragedy for the Golden Avenger as 1970's deaths and disaster almost bring Tony Stark to his knees.
By IRON MAN #21, Iron Man contemplated throwing in the towel. Seeking out retired boxer Eddie March to replace him, Tony Stark tried to settle down to domestic life with the lovely Janice Cord. As the new Iron Man, Eddie battled the latest version of the Crimson Dynamo and ended up in the hospital for his troubles. Stark returned to his armor to combat the Dynamo and Titanium Man in IRON MAN #22, but faced the first casualty of his year: Janice Cord.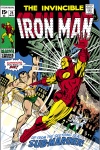 Reeling from Janice's death and Eddie's critical condition, Stark went off the grid in an attempt to recover his senses, but came face-to-face with a string of one-time adversaries to challenge his power. In IRON MAN #23 he met The Mercenary, who died after usurping the identity of Tony Stark. The mighty Minotaur and his devilish father rose up to confound the Armored Avenger in Monte Carlo in IRON MAN #24, both of them losing their lives in the aftermath of their dust-up with the hero. After a run-in over chemical wastes with an angry Namor the Sub-Mariner in IRON MAN #25—in which an employee of Stark's perished—Iron Man found himself transported to the Dark Dimension in IRON MAN #26 to secure the fabled Solar Sword for the selfish alien Collector.
Back on Earth, Stark received welcome news in IRON MAN #27: Eddie March back on his feet and itching to make himself useful again. Putting the ex-boxer to work for the Iron Man Foundation, Tony Stark delved into the mystery of Firebrand, a rabble-rouser working for a corrupt man seeking to shut down one of the millionaire's community centers. The mind-bending Controller returned in IRON MAN #28 to bedevil Meredith McCall, an old flame of Tony's, but with the help of S.H.I.E.L.D. agent Jasper Sitwell, Iron Man managed to win the day once more.
Around this time, Iron Man sought out a semi-regular string of appearances alongside Earth's Mightiest Heroes. AVENGERS #79 saw their scuffle with the Lethal Legion, a collection of villains, while AVENGERS #80 and #81 put Iron Man in contact with Red Wolf, a Native American crusader. Finally, in AVENGERS #82, our hero helped the team and guest-star Daredevil put down an attempted take-over of New York City by former Zodiac member Aries.
A Caribbean vacation turned into a nightmare for Tony in IRON MAN #29 when a mechanical dictator called the Overseer made a play for power on Stark's watch. Jetting off to Japan, Iron Man came face-to-face with the robotic Zoga and his taskmaster The Monster-Master in IRON MAN #30; both died after their botched attempt to rule the entire country. The Smashers reared their thug-ugly heads in IRON MAN #31, forcing our hero to don his armor and look into a pollution scare in a small town, orchestrated by the mysterious Mastermind.
IRON MAN #32 wrapped up the Golden Avenger's year with the odd tale of Mechanoid Scout MK-5, an alien being seeking a trade route on Earth. Unfortunately, the year's penchant for death meant an end to his quest when after disguising himself as a human he fell before the wicked intentions of criminals Iron Man failed to prevent running wild.
Check out IRON MAN (1968) and AVENGERS (1963) on the Marvel Digital Comics Shop, plus more Iron Man is available to subscribers of Marvel Digital Comics Unlimited.