By Jim Beard with Ben Morse
50 Years ago, Tony Stark became Iron Man, a historic milestone in the tapestry of the Marvel Universe.
Flash forward half a century, and the Armored Avenger has become a worldwide sensation. Beyond his prominent role across the Marvel Comics line, Shellhead hit the big screen in 2008 as Robert Downey Jr. brought Tony Stark to life in the first "Iron Man" movie. The character's popularity grew in 2010's "Iron Man 2" and 2011's "Marvel's The Avengers."
On May 3, 2013, Tony Stark returns to theaters everywhere in "Iron Man 3." In anticipation of this momentous occasion and to celebrate Iron Man's 50th anniversary, each week Marvel.com will be bringing you another chapter in the history of this complex and beloved character. Year by year, get an in-depth rundown of the trials, foes and experiences that have made Iron Man the hero he stands as today.
You can start here.
Also, be sure to visit the Marvel Digital Comics Shop and Marvel Digital Comics Unlimited to read 50 years' worth of Iron Man adventures!
A major new adversary for Iron Man kicked off 1971, a year that also brought with it yet another round of romantic turmoil and even more exotic locales for the Armored Avenger.
Spymaster, a ruthless industrial espionage agent, first appeared in IRON MAN #33 and swiftly became a prominent thorn in Iron Man's armored hide. With his band of agents, the Espionage Elite, he led an attack on Stark Enterprises and in IRON MAN #34 experienced defeat upon ditching his team to be able to spy again another day. During that melee, Tony Stark also witnessed the wounding of his friend, S.H.I.E.L.D. agent Jasper Sitwell, and fell under suspicion of being Iron Man by his employee Kevin O'Brien.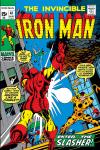 It took Sitwell being shot for the mysterious Madame Masque, once the beautiful Whitney Frost, to realize she loved the agent and not Stark. Tony had other problems on his hands when in IRON MAN #35 he discovered that the Zodiac criminal cartel's Capricorn had hired Spymaster. It took the combined efforts of Iron Man, Nick Fury, Daredevil and Madame Masque to put down the baddie's plans, a story that spilled over into DAREDEVIL #73 and found its coda in IRON MAN #36. By story's end, Iron Man traveled to the otherworldly realm of Ankh and battled with its priest and Zodiac members Aquarius and Sagittarius.
IRON MAN #36 also introduced a strange android called Ramrod, which stood as the first line of attack from an organization called Worldform, Inc., a group that sought the sterilization of the planet from human beings. To make matters worth, Stark found himself forced to confirm Kevin O'Brien's suspicions of his Iron Man identity. But, at the time, the millionaire's heart troubles once again gave him no alternative.
Around this time, Iron Man joined with the Avengers to help the team confront the riddle of the Brain-Child in AVENGERS #86, learn the full origin of the Black Panther in AVENGERS #87, and delve into the mystery of what the Psyklops wanted with the Incredible Hulk in AVENGERS #88.
After solving a sticky crime problem for one of his new employees, Frankie Majors, in IRON MAN #38, Tony Stark blasted headlong into a confrontation with another new menace, The White Dragon, in IRON MAN #39. The Dragon attempted to control Stark with a "transcriber," but the armor of Iron Man interfered with the devious plan. Unfortunately, the criminal also learned of the industrialist's dual life as a super hero, but then sacrificed his own in IRON MAN #40 to stop a nuclear weapon's detonation.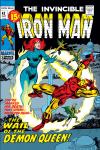 Tony's attraction to old flame the lovely Marianne Rodgers could no longer be held at bay and in IRON MAN #41 he addressed that thorny issue. Seems the woman possessed strong ESP powers and in a battle with Demitrius, an individual possessing similar abilities, Iron Man discovered that Marianne's usefulness to villains made her a target. In fact, in IRON MAN #42, after declaring their hearts to each other, Stark and the woman wound up in a "demonic realm" under the command of a man called Mikas. Mikas, working for the mysterious Mr. Kline, sought to seduce Marianne into becoming a queen of the demons and using her powers more fully.
The epic tale came to a close in the giant-sized IRON MAN #43, wherein the Golden Avenger fought valiantly to free himself and Marianne from Mikas' clutches, only to learn from Kevin O'Brien, dressed in the first incarnation of Guardsman armor, that the entire scene stood revealed as a fake. The entire demon realm, including the giant Doomprayer snake, seemed to be merely movie-style special effects.
It should be noted that Iron Man wrapped up his year by again returning to the ranks of the Avengers, yet this time for a lengthy stay. First up for Avengering? A little thing called the Kree-Skrull War in AVENGERS #93 and #94, a galactic conflict that would dwarf anything our hero had encountered previously.
Check out IRON MAN (1968) and AVENGERS (1963) on the Marvel Digital Comics Shop, plus more Iron Man is available to subscribers of Marvel Digital Comics Unlimited.