By Tim Stevens
As stated on the phone, I must warn you that any and all observations contained within the information below are purely subjective. This document is not intended to aid in estimates of dangerousness of the subject, only to offer possible explanations for the rapid personality shift recently observed. As such, nothing contained within should be considered treatment recommendations.
Xi'an Coy Manh is an adult female who presents as being in above average physical shape. It should be noted Manh is differently abled and utilizes a high tech prosthetic. She lost the leg due to necessary amputation following significant traumatic injuries from combat. Any further physical complications are unknown and, given the records available to this writer, assumed to not be significant, if they exist at all.
The subject has a long history with the mutants rights group known as the X-Men, being considered the first "New Mutant," part of a group of young teen mutants that were the first of the arguably "next generation" of the organization. She is currently a member of one of the premier "adult" teams.
Manh's abilities, which involve "possession" have, in the past, resulted in her becoming trapped in the bodies of others. Most recently, this was seen with David Haller aka Legion. It strikes this writer as possible that the same abilities that allow her to take control of others may leave her vulnerable to being overtaken by someone with a similar power set while she is "in" someone else's mind. It is the opinion of this writer that this is the most likely explanation for her sudden and violent change in personality. While details are vague, there does seem to be some historical evidence of this possibility involving the mystical being known as Shadow King.
Another possible explanation may be some sort of latent dissociative identity disorder finally manifesting itself. Early in the subject's time in the United States there are references to her "absorbing" her brother. Although this writer is unclear on what exactly this means, it does not seem a stretch that it may have been a similar situation to the creation of Onslaught, the villainous personality of Professor Charles Xavier, that was born of the Professor's absorption of the mutant terrorist Magneto's dark personality aspects. Manh's brother may have dwelled in her psyche for years and only now been able to seize control of her body.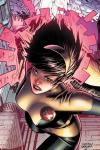 Beyond body possession, it should also be noted that the subject has a fairly extensive trauma history including sexual assault, growing up in a war zone, body image issues, and having to survive a barren desert for an extended period of time. Although it certainly seems an unlikely hypothesis, it is possible the subject is the midst of an extensive and intense flashback and is reacting to hallucinated or internal stimuli and that her teammates and friends are merely in the wrong time at the wrong place. They are not her intended targets, they just have the misfortune of occupying the physical space where she is hallucinating people or circumstances she imagines are setting out to hurt her. If this is the case, the flashback should end, allowing Manh to be escorted to the nearest locked mental health facility for evaluation with relative ease.
Doctors Marjorie Liu and Mike Perkins are considered to be very well informed on Xi'an Coy Manh and should be consulted for a better rounded perspective on the subject. Please refer to file ASTONISHING X-MEN #53 for some of their observations. It will be available for review on August 22.
Psy D. Candidate Tim Stevens, MA is a Dialectical Behavior Therapy Consultant and Practicum Trainee.