By Jim Beard
50 Years ago, Tony Stark became Iron Man, a historic milestone in the tapestry of the Marvel Universe.
Flash forward half a century, and the Armored Avenger has become a worldwide sensation. Beyond his prominent role across the Marvel Comics line, Shellhead hit the big screen in 2008 as Robert Downey Jr. brought Tony Stark to life in the first "Iron Man" movie. The character's popularity grew in 2010's "Iron Man 2" and 2011's "Marvel's The Avengers."
On May 3, 2013, Tony Stark returns to theaters everywhere in "Iron Man 3." In anticipation of this momentous occasion and to celebrate Iron Man's 50th anniversary, each week Marvel.com will be bringing you another chapter in the history of this complex and beloved character. Year by year, get an in-depth rundown of the trials, foes and experiences that have made Iron Man the hero he stands as today.
You can start here.
Also, be sure to visit the Marvel Digital Comics Shop and Marvel Digital Comics Unlimited to read 50 years' worth of Iron Man adventures!
Flying high on recent triumphs, Tony Stark's life came crashing down around him as a dramatic event brought terrifying new health concerns back into his hectic life as Iron Man.
IRON MAN #238 opened the year with the rampaging Rhino busting Blizzard out of incarceration. After Iron Man made amends to his old friend Steve Rogers—Captain America—he jetted off to score victory by taking down the Rhino, though Blizzard made good his escape. But the frosty felon's freedom proved to be less fun than he'd hoped, for in IRON MAN #239, he and his old cronies Blacklash and  Boomerang ran afoul of a resurrected Ghost, a situation which prompted their boss, Justin Hammer to make Iron Man an offer he couldn't refuse: stop the Ghost! Well, the best laid plans often go astray, and Iron Man found himself intangible after confronting his rival.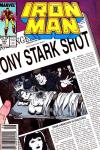 So, in IRON MAN #240, Stark's friend and partner Rhodey helped the Armored Avenger destroy the Ghost's intangibility device, then watched as Iron Man flew off to team up with Blacklash, Blizzard and Boomerang. That didn't last long and the three mercenaries confused the entire issue for our hero while the Ghost made his getaway. Alas, Stark found bigger things to worry about, like the Mandarin.
Iron Man uncovered the Mandarin in Hong Kong, in IRON MAN #241, and with him the master villain's new alliance with the ninjas of the Hand. Mandarin challenged his old enemy to a duel, but with a twist: if Iron Man won, Tony Stark could pursue business interests in Hong Kong to his heart's delight. If he lost, he'd become the Mandarin's employee. Fortunately, in IRON MAN #242, the villain's hubris sealed his fate and the Golden Avenger won the contest.
Then, Tony Stark's lady-friend stalker, Kathy Dare, shot him.
With Tony rushed to the hospital in IRON MAN #243, doctors saw the extent of the damage: the bullet had torn through Stark's spine. After Dare found herself handcuffed and arrested, and with Stark Enterprises' Marcy Pearson now in charge, Tony received the worst news of all: paralyzed from the waist down, he'd never walk again.
Forced into a wheelchair in IRON MAN #244, our hero appointed the ex-criminal formerly known as Force to be a temporary Iron Man. The new Armored Avenger, together with Rhodey, went after the criminal genius the Fixer, hired by the Roxxon Corporation, but found that he didn't quite have what it took to be Iron Man. Chafing at his unfortunate condition, Tony worked on a new suit of armor which would allow him mobility, then tested it out successfully against the Fixer. Iron Man flew high again.
But still his inability to walk on his own outside the armor nagged at him. In IRON MAN #245, the Maggia criminal cartel began to cause trouble once again with their Dreadnought robots, which spilled over into IRON MAN #246, wherein Madame Masque ordered a hit on Tony Stark. Mix in A.I.M. and Hydra and you had a three-way war in IRON MAN #247, which also involved the Hulk.
Finally, in IRON MAN #248, a new "biochip" breakthrough caught Stark's attention and the "cure" for his paralyzed legs seemed to be a reality. The trial of Kathy Dare cast a dark shadow over the proceedings, but Iron Man's determination saw him through a trial of another sort, this one of a much more personal nature.
The world seemed golden as the year ended and Tony Stark looked forward to new horizons. Unfortunately, he didn't foresee the impending Doom of IRON MAN #249—Doctor Doom, to be precise—and the bold new adventure that awaited the despotic monarch and himself.
Check out IRON MAN (1968) on the Marvel Digital Comics Shop, plus more Iron Man is available to subscribers of Marvel Digital Comics Unlimited.