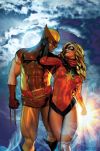 COVER BY: Brandon Peterson
WRITER: Marjorie Liu
Daniel Way
PENCILS: Giuseppe Camuncoli
INKS: Array
LETTERED BY: VC - Cory Petit

THE STORY:
"A CAUTIONARY TALE" In this standalone story, everything you thought you knew about the enigmatic Dark Avenger Daken gets turned upside-down. Moonstone lets her curiosity—and her training as a doctor of psychology—get the better of her as she attempts to uncover what lies beneath Daken's surface. But when she finally gets him alone, what she finds just might kill her. A perfect place to jump on board to find out why critics are calling this series "a must read"!
Not a subscriber to Marvel Digital Comics Unlimited yet? Join now!
Download SPIDER-WOMAN and ASTONISHING X-MEN Motion Comics now on iTunes! For more information on motion comics, visit the Marvel Motion Comics hub!"
Download episodes of "X-Men: Evolution", "Wolverine and the X-Men", "Fantastic Four: World's Greatest Heroes" and "The Super Hero Squad Show" now on iTunes!

Check out the official Marvel Shop for your favorite Marvel Heroes!