By Jim Beard
The Red Skull's story revolves around the question of a path in life, a destiny that will either be fulfilled or tossed away. Writer Greg Pak's pondered the path of Johann Schmidt in his RED SKULL limited series and found himself turning the idea of a predetermined route to ultimate evil around to lie before his readers.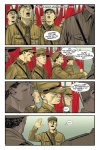 RED SKULL #4 interior page by Mirko Colak
"I've tried not to make my own opinions on this question too transparent," he remarks. "I think the experience of reading the book is stronger if readers have the chance to grapple with that question on their own. I'll just say that Johann will face the biggest choice of his life in next month's RED SKULL #5. If and how he could have made another choice is exactly one of the conversations I'd love for readers to have with each other after the story's done."
The origins of RED SKULL as a project concern the inherent struggles in crafting a period piece of fiction that lives and breathes on its own, engaging the reader and—hopefully—leaving them with lessons in the driving forces of history and humanity.
"In actual practice, the way to make the history seamless was to always show events through the eyes of Johann, and to have his personal struggles and drama play out in the foreground," Pak notes. "The actual real-world history serves as a backdrop, echo, and unspoken commentary on the individual story/tragedy we're following
"It was clear that we had the chance to tell a multidimensional story: on a micro level, following an orphan who becomes a Nazi, and on a macro level, exploring how an entire society degenerated from what many called the most civilized in Europe to the most horrifically debased.
"So I started by reading the original Red Skull origin stories to wrap my head around the major milestones in Johann Schmidt's life. Then I began reading histories of the Weimar Republic and early days of the Nazi Party to see where this story of an orphan-turned-Nazi could fit into actual history. Fairly soon, I zeroed in on a few key historical events, starting with Hitler's Bierhalle Putsch in 1923 and ending with the Night of Long Knives in 1934. That time frame made pretty good sense in terms of Johann Schmidt's actual history in the Marvel Universe and was perfect for exploring the rise of the Nazis in the real world."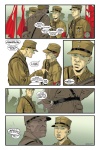 RED SKULL #4 interior page by Mirko Colak
The writer also points out that RED SKULL serves as a kind of bookend to his previous MAGNETO: TESTAMENT series. Both books represent characters shaped by the same general historical events and who arrived at divergent ways of adapting to them.
"RED SKULL follows an orphan turned Nazi from 1923 to 1934," says Pak. "MAGNETO follows a German Jewish boy fighting to keep his family alive from 1935 to 1945. Together they show two boys on different sides grappling with one of the most harrowing periods in modern history and the most terrifying choices any human being can be forced to make.
"As RED SKULL begins, Johann's pretty much non-ideological. He's just a tough kid struggling to survive and dominate in the streets. He doesn't have any particular interest in the racist ideology of the Nazis - he's just interested in their power."
In all, the series stands as a set of personal rewards and challenges for Pak, as he worked his way through its many levels of construction.
"I gave myself a challenge when starting RED SKULL to reduce the verbiage in my scripts," he explains. "I did pretty well with much of the book, but here and there I gave poor [artist] Mirko [Colak] a bit too much text to slog through. That's an ongoing challenge in writing comics: to write with enough detail that you get your story across to the artist, but write concisely and evocatively enough that [they have] room to imagine, expand, and improve upon your ideas."
RED SKULL #4 hits stores today, October 26, with the final issue coming on November 30.