By Jim Beard & Tochi Onyebuchi
Christmas comes a bit early this year when on November 16, select Marvel comics will host a special story featuring Disney's Prep & Landing cast of characters.
That's right: Avengers Mansion will never be the same when Santa's little helpers, as seen in the Prep & Landing animated television specials, invade AVENGERS #19, MARVEL ADVENTURES SUPER HEROES #20 and MARVEL ADVENTURES SPIDER-MAN #20 for a gift bag full of mayhem and mirth. We caught up with Prep & Landing writer and director Kevin Deters to learn more about the exclusive story.
"I heard through the grapevine that [Marvel Chief Creative Officer] Joe Quesada was a big fan of the original Prep & Landing and last year's short 'Operation Secret Santa,' reports Deters. "He was really complimentary about the project so that got me thinking. I'm a life-long comic book fan and I always wanted to work in comics as a kid. I still read comics, and my sons read them. I realized that Prep & Landing could translate well into the comic medium.
"So we reached out to Joe and he thought it was a great idea. In fact, Joe had a fun idea of a way to let the universes touch on each other without directly interacting. And I've always been a big fan of the Avengers. When I was a kid you'd have a certain amount of money, and you could only buy a couple of comics. You always buy the group books, right? 'Cause they had more characters in them."
The story concerns elves Wayne and Lanny prepping Avengers Mansion for a visit from their jolly boss, unaware of the weighty significance of the building in which they go about their boisterous business.
"It's more of a tongue-in-cheek approach as far as the two universes just kind of glancing off each other," Deters says. "Lanny and Wayne, our elf characters, they don't really have an appreciation for where they are. The idea is that the Marvel reader will hopefully get the joke that 'oh, they don't realize they're in the Avengers Mansion,' and 'look at all this cool Marvel stuff that we're showcasing.' But the elves don't have an appreciation for it; they just think it's a really crazy house. So that's kind of the basic conceit of it."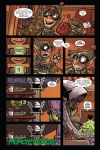 "There is one slight cameo of a Marvel character, and there are a couple shots of some characters—you see the back of their heads—but, again, we didn't want to have anything like the characters meeting each other face to face or fighting villains together or anything like that. It's sort of a strange distinction, I know. I always think about those stories that Marvel used to do where the characters would sometimes visit the creators of the comics. They'd go to the Marvel Bullpen and talk to them and that kind of thing, and they'd be talking to Stan Lee or whoever. And those are always sort of done with a wink to the reader. And I was trying to channel the same kind of energy."
In some ways, Avengers Mansion itself becomes a character in its own right in the story, a situation inspired by a particular Marvel tale of yore.
"There was a great old Fantastic Four story that John Byrne did where one of the bad guys tries to sneak into the Baxter Building and the whole story is about how the Baxter Building takes him out," Deters notes. "That was an inspiration for our story. It's only eight pages long, but we tried to cram as much fun stuff in there as we could."
The transition from writing and directing animated television specials to overseeing a comic book story stands as one that Deters calls a "different challenge" to his vast experience. Fortunately, he also had the very best people to work with on the Marvel project.
"Joe Mateo illustrated the comic story; he's also in our Story Department, and he worked on all the Prep & Landing projects," he says. "He's a great artist and he also has a life-long love of comics and has always wanted to work in them. Comics and animation are both visual mediums, but I think when you're laying out a comic book page, you're thinking about the flow of the story across the page and across the different pages. That's a challenge that's unique to the comic medium, I think."
"Obviously, in animation, when you're storyboarding one panel to the next,  you're concerned about the overall flow of the sequence and the overall flow of the movie. With comics, it's a different challenge when developing the story and visualizing it. And then, obviously, the actual putting pen to paper, I think, you want to have tighter pencils. Storyboards are sort of made to be thrown away. Storyboarding is all about clarity."
Overall, the experience grew into one that Deters can be proud of, and one he looks forward to springing on Marvel fans.
"Hopefully people will like what we have done," he muses. "I will say that the folks at Marvel have been really fantastic to work with. I couldn't ask for a nicer bunch of people—really great. It was a great labor of love and kind of a dream come true for both Joe Mateo and me to do a little bit of comic work. At Marvel, no less. That's pretty awesome. I have three sons and I think they're more excited about that than about anything else their dad's done, so I'm very proud of that. That's pretty cool.
"I can't wait to go to the store on that Wednesday and check out the books!"
Lanny and Wayne can next be seen this holiday season in "Prep & Landing: Naughty vs. Nice," airing on ABC on December 5th at 8:30/7:30 Central.