By Kevin Mahadeo
Jonathan Hickman wants to build a better tomorrow, today. Well, more precisely, on March 23, the day that marks the launch of the new ongoing series FF.
Standing for "Future Foundation," the new FF title picks up directly from the finale of FANTASTIC FOUR, which came to a close with issue #588. The team and title name change comes in response to the death of the Human Torch—left to battle the army of Annihilus in the Negative Zone—at the conclusion of the "Three" storyline. The new series sees the Future Foundation take on new black-and-white costumes as well as the addition of Spider-Man to the already sizable cast, which along with Reed, Sue and Ben includes Franklin and Valeria Richards, Alex Power, a child clone of The Wizard, Dragon Man, Leech and the Moloid children.
Along with the upcoming FF, Hickman also pens S.H.I.E.L.D, exploring the historical origins of the super secret organization, and the Nick Fury-led SECRET WARRIORS, which concludes with issue #28.
Hickman took some time away from shaping the world of tomorrow to talk FF, putting together the pieces of the puzzle and what S.H.I.E.L.D and "Lost" have in common.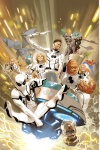 FF #1 cover by Daniel Acuna
Marvel.com: The Future Foundation is something you established previously FANTASTIC FOUR. Did you always know that this is where you wanted to take the story?
Jonathan Hickman: Yeah. I mean, I have not deviated much from my larger plan that I laid out to [Marvel Senior Vice President of Publishing and FF editor] Tom [Brevoort] when I first got the gig. What has changed is the fact that we ended one series and started a new one. In the name change, we picked up what was an important but secondary plot thread and really kind of made it the focus. And it's worked out for the better. The book is definitely more interesting than when I first started on it and I'm having a blast writing it. It feels like it's kind of important. People that love the Marvel Universe are paying attention to it for the first time in a while and we're really proud of that.
Marvel.com: The idea of the Future Foundation was something I enjoyed from when you first introduced it: this scientist group consisting of the younger generation. Would you say the focus of the book will take more of that science team direction or will it still be more akin to the FF family of adventurers-style stories?
Jonathan Hickman: Beyond the inclusion of new members of the greater team, the emphasis is going to be exactly where it's been, which is on all the characters of the book. I've slowly been growing the cast and giving each person their time in the spotlight, but I also hurry to say that this is still a book about the first family as well. It's very, very important what's going on with Ben and what's going on with Reed and what's going on with Sue. And how Peter plays into that and how it affects the kids and from there, how it spreads out to the other kids in school. I would say the book has a wider scope, but it's still narrow.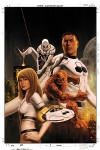 FF #1 cover by Steve Epting
Marvel.com: You know, since the finale of "Three," people have been going back and looking at the pieces of the puzzle and all the hints you had put in previously. But there still seems to be a lot of pieces that are still in play, including a few of the things Future Franklin told Val.
Jonathan Hickman: I'm going to use everything. I know sometimes it may feel like when you're reading an issue that random things are happening or that I've dropped some stuff or maybe that I've forgotten about it. But I don't do wasted panels. I don't do wasted plot threads at all. It all ties together. "Three" was just the end of the first act of what is a larger FF plan. So, I don't think it should be looked at any other way. All that stuff is still in play.
Marvel.com: You mentioned the growing cast. When you first came onto the book, you said that you wanted to really look at these characters and how they work with the idea of team and family. As the cast gets bigger, is this still the case?
Jonathan Hickman: I think what we're doing is looking at family from two perspectives: what is your immediate family and what is your greater family, your societal family. Obviously, the kids fulfill that role as far as what is the greater societal family and how do we view that story and how does it get told. So, I would say that the extended cast is completely intentional, and their focus is what we're primarily looking at right now. We certainly won't neglect the first family, but all along I've tried to make the Fantastic Four more relevant in the Marvel Universe, and step two of that is re-injecting it into the Marvel Universe after I've told this really, really tight story about the family.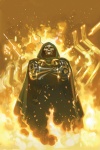 FF #2 cover by Daniel Acuna
Marvel.com: Going off that, how do you plan on bringing in the greater Marvel Universe? Obviously, Spider-Man is one, but will you be having more guest appearances and stories that focus on what's going on beyond the main FF title?
Jonathan Hickman: Well, FF is going to be going on as the same time as our very exciting event, Fear Itself. Parts of FF are going to be very important to that, a couple characters especially. So, that's one way we're going to be doing it. Another way is that we're going to be casting a wider net on who shows up in the book. We're going to see She-Hulk. She's always been an extended member of the family, so we'll see her. I don't want to spoil anything, but we've already seen She-Hulk once, and that was in the area of her legal expertise. I don't think it'll be shocking to see her in that role again, in a more intimate and personal setting instead of a big conference setting like we saw her in last time. Jen has always been around for the last couple hundred issues at least. We've always seen her, and in a lot of ways, I've always found it strange when she doesn't show up in the book. It always seems to me that people would be showing up at the Baxter Building, just like people would be showing up at the Avengers Mansion.
Marvel.com: If I was friends with someone like Franklin when I was younger and had to chance to visit the Baxter Building with all those cool gadgets, I'd be there every day.
Jonathan Hickman: Yeah. You got to figure that the kids have got to be the coolest kids around. Not Val because she's a little difficult, but you got to think that Franklin's a really popular kid at school.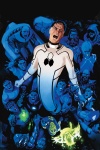 FF #3 cover by Daniel Acuna
Marvel.com: Speaking of Franklin, what's it going to be like now that his potential has been unlocked and his powers are back are out in the open?
Jonathan Hickman: Franklin's got a really, really interesting next year and a half ahead of him. Really, really cool stuff. He's always been one of my favorite characters ever since I was collecting comics, so writing him is a real joy. As far his potential power unleashed, Leech is still going to stick around because right now no one is prepared to deal with that or handle it. And we've certainly hinted at Galactus having a problem with the fact that he's reignited. And we've seen his future self do amazing things. Again, it's going to be a really interesting next year and a half with him.
Marvel.com: Before we move on, what can you hint and tease at about what elements you'll be bringing into play in the coming months?
Jonathan Hickman: Well, you're going to see the War of Four Cities that we've been hinting about for a while. It's going to be huge and epic and all that kind of stuff. You're going to see FF in the middle of Fear Itself, which is going to be huge and even epic-er. I've intentionally kept Doctor Doom out of the book for the most part, so that I can bring him on in a really, really cool way. So, you will see that. Lots of great Spider-Man stuff. We'll see the remaining members of the Council of Reed again. And as far as Sue, all the Atlantean stuff is nowhere near done with. And Ben. Ben's in the crap for the next little bit. He's got a really cool couple of months ahead of him.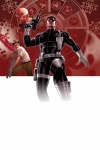 SECRET WARRIORS #25 cover by Paul Renaud
Marvel.com: Shifting over to another of your titles SECRET WARRIORS, I feel this book showed a perfect example of how longtime hints come to fruition, like with Hellfire's death. As the book winds down, what else can we expect to happen?
Jonathan Hickman: Issue #25 is the all the Zodiac stuff that happened in the 60's, which kind of links Leviathan and Hydra and S.H.I.E.L.D and everybody else all together. Issue #26 picks up where we left off in issue #24 with Fury seemingly done for. That's probably the most revealing issue we're going to do. Issue #27 was going to be the last issue, but I've turned in too big of a script, so we had to split it. Issue #27 is fallout of everything that has been happening throughout the series and issue #28 is kind of a finale where we see what happens to the few remaining people that make it out alive. I've turned in my last script, so I'm done. Good night, Nick Fury.
Marvel.com: With FANTASTIC FOUR and FF, you said that your plan hasn't really deviated at all. Is that the same case with SECRET WARRIORS?
Jonathan Hickman: Well, I cut it short. I see from time to time online where people think that I was editorially mandated to do that, which is not true. That's not even remotely close to what happened. I just realized that the story would be much, much better if it was tighter and faster. Also, in the market we were in, I was concerned that if I started out trying to tell a 60-issue story that I wouldn't get finished. So, I cut a lot of the fat off and kept the meat. I would say that outside of one thing that changed—and I think for the better, I'll have to see how everybody likes it at the end—I never deviated a single bit. My SECRET WARRIORS plan was probably more extensive that my FANTASTIC FOUR was.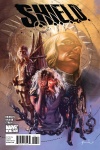 S.H.I.E.L.D. #6 cover by Gerard Parel
Marvel.com: The last thing you're working on right now is S.H.I.E.L.D, which I thought was a fantastic idea. So far in that book we've got great historical characters like Galileo and Da Vinci. Are we going to see more historical figures as the book moves on?
Jonathan Hickman: Well, what we've done so far in the first six issues is simply introduce a character. We've done it in a really interesting and visually dynamic and maybe roundabout kind of way, but we're really now just getting into what is going to be the heart of the story, which starts with volume two, issue #1. I don't think anyone has any idea where we're headed and I don't think anyone has a clue what the point of the story is, and that may be irritating for some people and that may be glorious for some people. It's the way I wanted to tell the story, and I don't think there's another book like it in the mainstream market right now. We're doing some different things.
Marvel.com: The way you said that some people like that they're not sure what's going on and some people hate it reminds me of the "Lost" effect. It's like S.H.I.E.L.D is the "Lost" of the comic book world.
Jonathan Hickman: They're all dead. All dead.