By Justin F. Gabrie
"At first the chocolate and peanut butter aspect of Flash Thompson and Venom together really had me confused," admits VENOM writer Rick Remender. "But then I read more about Flash and really dug into it.
Conversations with AMAZING SPIDER-MAN writer Dan Slott and Spider-Man Senior Editor Steve Wacker also brought Remender to the following revelation:
"The Venom symbiote is only interesting when you put somebody interesting in it."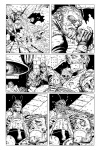 VENOM #5 preview inks by Tony Moore
Things have been very interesting thus far for this series spotlighting the United States military's new premiere agent: Venom, a symbiotic suit 'piloted' by Corporal Flash Thompson. In one four-issue story-arc, our hero has already disrupted the Crime Master's nefarious businesses, made mortal enemies of Jack O'Lantern and Kraven the Hunter, and confronted not only Flash's idol, Spider-Man, but even more importantly, the symbiote itself.
In his sophomore story arc, Venom gets involved with Spider-Island in a major way.
"You got the city under quarantine; tunnels and bridges cordoned off," sets up Remender. "Everything is going crazy; spider-powered people bouncing off buildings. The military sends Flash in with the one goal of stopping a very strange Spider-like creature that's trying to get out of the city. So Flash becomes deeply imbedded in the storyline with how he chooses to solve this particular problem. I'll leave it vague because it ends with some very nice surprises."
The mission will lead him face-to-face with Eddie Brock, Anti-Venom.
"That's obviously fun stuff [and I'm] incredibly proud of that issue," Remender says. "I could've written at least four issues of them going against each other; that's how much meat is on the bone. Nobody knows the Venom suit better than Eddie. He really lays into Flash, more verbally than physically, the fight is a little more psychological then it is just fisticuffs."
But how does the symbiote take the reunion with its longtime partner?
"The suit reacts like a bitter woman scorned," laughs Remender. "Like jilted lovers, they're just nasty, petty things with the inability to control their negative emotions. They have a thirst for revenge. From that aspect, we will see the symbiote 'react' to some characters in Spider Island beyond Anti-Venom. Who, exactly? Sorry, can't say without giving anything away.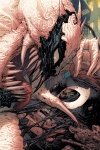 VENOM #7 cover by Tony Moore
"I will say I've spent a lot of time on the phone with Dan Slott, beating the story up to figure out how to make Venom's role in this pertinent. It wasn't that hard as it turned out. [He] has been super cool, but he's not at all protective, he's very inclusive and he's been a joy to work with. Dan Slott has definitely earned his job there on AMAZING SPIDER-MAN."
Senior Editor Steve Wacker further explains, "All along, the plan from Spidey architect Dan Slott was to have Venom intimately involved in the story of Spider-Island since [VENOM] is essentially the sister book to AMAZING SPIDER-MAN. From the start Dan had laid out some important beats to the main story that could play out in VENOM. From there Rick and Dan came up with even more to make sure that all the readers that are steered to VENOM because of this event aren't going to be cheated or feel like the story they're reading isn't important to the main book. These issues 'matter' and they send the book off into a wild, different direction."
As for choosing what parts of Venom's mythology to retain and which to discard, "For me, the challenge when you're not the person cooking it up, when there is a history, is to choose the best parts and build from them without ignoring the rest," explains Remender. "Not all of those things are going to speak to you as a storyteller when the baton is passed to you, so I make a list of what character traits are most interesting.
"In the case of Flash, here was a character famous for being a hot-headed bully, who was himself bullied by his father as a child. Now having lost his legs in the service, Flash is not only given the opportunity to have his legs back, but to also become one of the most powerful people on the planet and still continue to serve his country. But because he has these dependency and rage issues, the character traits play off of the suit in two ways: this symbiotic creature feeds on negative psychic energy so that if he loses his temper the suit takes him over and then Agent Venom becomes the hulking, sharp-tooth, tongue-slobbering Venom, and [also] Flash doesn't want to 'Venom-out' because it causes him to fail missions, which will eventually mean they'll take the suit away from him.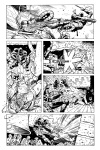 VENOM #5 preview inks by Tony Moore
"All conflict demands some context, some personal emotional stakes. If not a fight just falls flat," he concludes. "You can write a character with clever dialogue, you can work with a great artist like Tony Moore, but without the emotional conflict it doesn't work."
Asked what ingredients he felt the series needed to make it sustainable, Rick offered a one-word answer: "Heart!"
"Again it's all about how much you care about Flash and his situation; you've gotten to like the guy, you want to see him succeed. You've established his conflict in the drama that he's been mired in. I always loved the classic Spider-Man aspect of it in that one of Peter's good friends is now Venom."
Remender further elaborates, "At the end of the fourth issue, I really felt—and so did Wacker when we were going through the story beat—that we had something big. It was just in the idea that Peter and Flash are still friends in a somewhat complicated relationship with Betty Brant in the middle—Betty as Flash's girlfriend is like a sister to Peter—and she's already been put in danger; Peter thinking it's because of Venom and Flash knowing it's because of Venom. That's when I begin to realize this is a really exhilarating time in Spider-Man comics. We can see this is going to come to a head at some point. And that's the stuff that gets me really excited to write. [It] feels important. Feels like a big Spider-Man story. Hopefully that comes across to the people reading it."
"Rick had outlined and co-written a book for me called ONE MONTH TO LIVE and his voice for a 'regular guy' caught up in deadly circumstances stuck with me," says Wacker of his writer. "After we initially spoke about the concept for Venom, he dove right in with a vigor that always inspires an editor. He wears Venom just as much as Flash Thompson does and I think he's doing some very personal writing in it."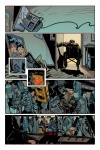 VENOM #5 preview art by Tom Fowler
On the future of the series, Remender had plenty to say.
"Eddie Brock is going to become a part of the book so his relationship with Flash is going to be important," he promises. "Crime Master and Jack O'Lantern are far from gone. We're going to see Venom go up against some of the biggest guys in the Marvel Universe in various situations coming up and there are going to be a lot of complications."
Along those lines, with the recently announced CARNAGE U.S.A. series bringing Cletus Kasaday firmly back into the Marvel Universe, how long will it be before the government sends their symbiote solider against his sociopathic "son"? Per Remender, not long, and it will be a pretty big deal. There's a lot of that coming up in VENOM.
"Spider-Island isn't just, 'Hey, you have to do a crossover!' Fortunately, I was fairly early in the planning processes of VENOM when it came about and I was able to interweave it into the story line in a way where the events have an effect moving forward. They can also be seen as an inciting incident for the second year that absolutely changes the book's direction.
"I hate to think I'm spewing hyperbole as part of the team, but I love what Dan and Steve have cooked up here and am proud of the chapters of the story I get to tell. Big adventure, high-concept, fun super hero stories—that's the kind of stuff we need more of. I think people are going to go nuts over it."