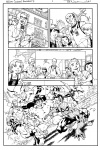 SPIDER-MAN AND THE AVENGERS #1 preview inks
By TJ Dietsch
Heroes come in all shapes and sizes, as seen in the pages of SPIDER-MAN AND THE AVENGERS #1, available only at Williams-Sonoma stores and digitally on williams-sonoma.com.
The cooking supply company has teamed-up with Marvel Custom Solutions to help build awareness for Share Our Strength, a charitable organization aiming to end childhood hunger. To help spread the word, writer C.B. Cebulski and artist Todd Nauck created a 12-page story featuring the Frightful Four attacking a Share Our Strength cooking demonstration hosted by Avengers butler Edwin Jarvis with Spider-Man, Captain America, Thor, Iron Man, Hulk, Giant-Man and The Wasp stepping in to save the day.
"Once the project came about, editor Bill Rosemann was looking for a writer who knew not only the Marvel characters but also had a bit of cooking and food knowledge, as that was a necessary part of what was needed for this story," shares renowned foodie Cebulski. "As Marvel's resident talent guy and food guru, Bill first approached me to see if I knew anyone who I thought could handle the writing chores. I think I answered him jokingly with a response like, 'You mean someone like me?' And he was like, 'Yeah, just like you, you know, why don't you write for me?!'
"I worked with Bill and Williams-Sonoma to come up with an Avengers cast that we felt would be would be entertaining and educational, and suit all the needs of this story."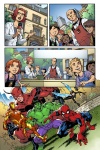 SPIDER-MAN AND THE AVENGERS #1 preview art by Todd Nauck

"I've been working on a number of projects with Marvel Custom Solutions for some time now," Nauck says. "I had the honor of drawing an Avengers mural for 'Extreme Makeover: Home Edition' last season for Patrick Sharrock's home classroom and turning the whole episode into a 'comic book.' I've also done art for ESPN's 'NFL Sunday Countdown' drawing a number of NFL players for the show.
So when this Williams-Sonoma opportunity came up, Bill and crew sent out the 'Nauck Signal' and I was on board in a heartbeat! It sounded like a fun Avengers comic to draw and I'd get the opportunity to work with C.B. Cebulski!"
The story itself features a who's who of Marvel heroes and villains, but the real star of the show turns out to be the Avengers' loyal butler Jarvis, who, along with the children he's attempting to teach about cooking, gets shrunk down by Giant-Man in an effort to stay safe and finish the meal.
"It just made sense given that this story revolved around food," Cebulski says of the Jarvis-centric plot. "As the Avengers' loyal butler and cook, Jarvis has served these heroes' needs since day one. But here we felt it was important to not only spotlight his culinary skills in the kitchen, but also make him the hero of the story. You can't work side by side with Spider-Man and Iron Man and not have their heroism and bravery rub off on you!"
In addition to coming together to create a fun and educational story about food and super fisticuffs, Cebulski and Nauck also enjoyed working on the project as a way to help Share Our Strength.
"It feels great," Nauck says. "This comic is a fun way to get the message out there and help more people learn about ending childhood hunger. This kind of reminds of the classic X-MEN: HEROES FOR HOPE comic to aid in famine relief for Africa that came out when I was a kid. It's an honor to able to help spread the word about Share Our Strength through this special Williams-Sonoma/Avengers comic book."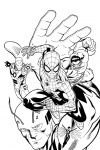 SPIDER-MAN AND THE AVENGERS #1 cover inks
"Given my busy schedule, and the fact that I'd put my writing career on hold for a bit, I do have to admit I was hesitant to take this gig at first," Cebulski notes. "But once Bill explained this special issues was in support of Share Our Strength's 'No Kid Hungry' initiative, I was more than happy to dust the cobwebs off of the creative side of my brain for this charitable cause as it's one I believe in."
Even with so much going on in the issue—from the action of the fight between heroes and villains and the science behind Jarvis' cooking lesson—Cebulski says the story itself wound up taking some prep in the beginning but after that went along smoothly, much like a cook with a recipe.
"It was harder in planning than it was in execution, really," Cebulski says. "Once we decided on the characters and course of action, it was easy to see the connections and play the heroes and villains' powers against each other in a way that also naturally tied into the cooking elements of the story."
Once Cebulski and the editors locked in the characters and which versions to use, Nauck got to work drawing. He noted that his work on SPIDER-MAN AND THE AVENGERS #1 actually moved a new Avenger to the top of his favorite list.
"When Bill and his assistant editor, John Denning, got me the plot, they provided all the reference for which costumes would be used for each Avenger and Frightful Four member," Nauck says. "I think the latest design for Janet Van Dyne/Wasp was definitely the way to go. It is a striking design that looks great amongst the other Avengers. And I am a big fan of the current Giant-Man look created by Mike McKone for AVENGERS ACADEMY. People often ask me who my favorite character to draw [is] and it's always hard to narrow it down to one, but now—for the moment, at least—I can officially say, 'Giant Man!'"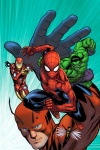 SPIDER-MAN AND THE AVENGERS #1 cover by Ed McGuinness

With all the cooking and food involved in the comic, you'd think these guys spent as much time in the kitchen as they do on comics.
"When I am not on the road talent scouting for Marvel, I try to get in the kitchen as much as possible, probably two or three times a week when I'm back home in [New York City]," Cebulski says.

"When it comes to cooking, I make a mean queso dip that is the hit of any party I attend, especially Super Bowl parties," Nauck touts. "But I spend so much time drawing it doesn't leave me much time to perfect my culinary craft!"

You can find SPIDER-MAN AND THE AVENGERS #1 online at williams-sonoma.com and in their retail stores now!