By Tim Stevens
Simon Williams, perhaps better known as Wonder Man, a costumed hero and low-level actor, is an adult male who appears to be in above average physical condition. However, his unique physical chemistry, which renders him a being of purely ionic energy, makes it difficult to assess his true physical fitness purely on the basis of appearance.
His ionic makeup has also been the focus of concerns in the past by this writer and other staff in regards to his mental health. While conventional means have registered no physical damage to the client's brain, it is unclear if conventional means are suited to working with someone who has become predominantly energy. Additionally, there are no conclusive studies about how ionic energy might affect a client's psychological profile beyond mere physical changes or damages to the brain. Due to this lack of evidence, this writer can only conclude that ionic energy poses no immediate threat to the client's psychological well-being. However, it remains important to note that this issue hardly seems to be conclusively decided.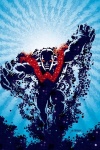 Previously Williams met with this writer while incarcerated and the focus of sessions was on his unhealthy relationship with his brother, Eric, also known as the super powered criminal Grim Reaper. At that time, this writer found the client to often be distant and evasive but also capable of being very personable and honest. In the end, it appeared healthy progress had been made before the client was rightfully released from prison as Norman Osborn and H.A.M.M.E.R. were removed from power.
In session now, however, the client presented as much more animated and agitated. He spoke quickly and, while remaining goal-centered in his thoughts, often seemed to not be concerned with whether or not this writer could keep up. Overall, repeatedly, he returned to the idea that the team of costumed crime fighters known as the Avengers, a group he himself once belonged to, represented a danger to all who the organization recruited, worked with, fought, and so on. He expressed on more than one occasion that the team was cursed.
The client confided that he had taken this belief to individuals like Anthony Stark and Commander Steven Rogers, the heroes Iron Man and Captain America respectively, and had been rebuffed. He confessed that, perhaps, his approach had something to do with it.
Recently, Williams has become more dedicated to the idea of convincing the Avengers that they are bad for themselves and others, insisting he had a plan not be ignored. With this may all sound borderline threatening, it is the judgment of this writer that it would be unethical to inform the Avengers of the client's comments. He has failed to describe a plan that would lead to grievous harm to any Avengers or himself, identify a timetable, produce weaponry of any kind, or allude to a desire to murder anyone. Therefore, it does not rise to the level of Tarasoff and there is no cause for alerting potential victims.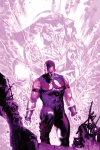 NEW AVENGERS ANNUAL #1 cover by Gabrielle Dell'Otto
This writer will continue to urge Williams to explore healthy ways to express his feelings including teaching interpersonal effectiveness and using role plays to demonstrate the effectiveness of speech over action in getting others to consider your viewpoint. For now, until the client becomes more specific in his plans or his intent, this is the only interventions that are ethical and appropriate.
Simon Williams' follow-up session is scheduled for September 7 with Doctors Brian Michael Bendis and Gabrielle Dell'Otto. Information on the session will be available on that day in the file marked NEW AVENGERS ANNUAL #1.



Psy D. Candidate Tim Stevens, MA is a Practicum Trainee at a Federal Correctional Institute and a Dialectical Behavior Therapy Consultant who has experience working with individuals who often feel unable to express themselves without aggression or violence.