By Tim Stevens
While he might not be ready for it yet, it appears that Kaine's time in the spotlight has arrived.
Under the guidance of writer Chris Yost and artist Ryan Stegman, the villain-turned anti-hero now heads the commercially and critically well received SCARLET SPIDER ongoing. With issue #2 due February 8, the duo has heard the good reviews and draw inspiration from them.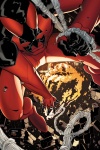 SCARLET SPIDER #2 cover by Ryan Stegman
"Everyone has been really enthusiastic about the book, and we couldn't be happier with the response," Yost confirms. "Fans have things they're excited about and bring up potential settings or characters we weren't necessarily thinking about, and it just helps inform us."  
The writer lays much credit for the book's success out of the gate and potential for continued triumph at the feet of his collaborator.
"Ryan's the real deal," Yost says. "He takes my scripts and makes them better. Do I resent it?  Yes I do. But his pages are so pretty I can't stay mad. Ryan's got big ideas for the book, he's designing new characters every day, [and] it's been incredible. We're so excited for people to see everything that's coming up."
A bit part of what will be happening in the book in the months to come places the attention squarely on the development of Kaine as a character, balancing the combat and explosions with his continued evolution.
"Kaine has never really had a life," Yost explains, "Now for the first time, he has to figure out who he is. So on top of the action, you're going to be seeing a lot of him just figuring out what it is to be a real person. His personality will change in the sense that he's going to get one."
However, readers should not expect that just because Kaine has a personality coming he will become a likeable guy.
"He's against [connecting with people]," Yost notes. "Kaine's met people, he's fallen in 'love,' and it's not ended well. But at the same time, he's eager to have a life.  He's torn.  But it's hard to stop those human connections, especially love."
The Scarlet Spider's hesitance, Yost stresses, does not come without good reason.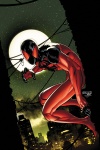 SCARLET SPIDER #3 cover by Ryan Stegman
"Kaine's supporting cast, and the entire city of Houston for that matter, are real people, living their lives," he points out. "When Kaine rolls in to town, everything changes.  Kaine will have a big impact on each and every person he encounters, and not always for the better."
Evidence of this has already been seen in SCARLET SPIDER #1 when Kaine chooses to act a hero rather than ignore or run from the injustice he sees. And, as they must, consequences will come to The Scarlet Spider for making this connection very quickly.
"Kaine saved a young girl's life, Aracely," Yost reminds. "Xiuhcoatl, or The Salamander, is intent on killing her. Kaine takes exception to that, and sparks will fly."
Villains like The Salamander will be another piece of Kaine's development by forcing The Scarlet Spider to consider his past.
"A good Kaine villain makes Kaine take a hard look at himself because he used to be a super villain," Yost asserts. "These are villains who are killing on orders, or killing for money, killing as a way of life, or even for sport. And Kaine was that guy."
Kaine will not be exploring these new experiences alone, as a variety of familiar faces will be swinging by—eventually.
"We've been talking about guest stars, and in time they'll doubtlessly pop up," Yost says. "But for the first six issues or so, we really want to establish Kaine on his own in Houston.  The Marvel Universe will definitely come a calling for Kaine soon enough.
"[SCARLET SPIDER] #3 and #4 introduce the Assassins Guild, an organization of contract killers that work out of New Orleans that the X-Men have had a few run-ins with. In issue #5, we've got an intimate little drama about a nuclear bomb. And in #6, we drop our first big hint about the year's big bad."