By Chris Arrant
Writer Sam Humphries has taken the comics world by storm with a series of successes in independent comics, and he's bringing his talents to the House of Ideas in 2012. Humphries makes his Marvel debut next month with the limited series JOHN CARTER: THE GODS OF MARS and earlier this week news broke that the writer will join Jonathan Hickman as co-writer of ULTIMATE COMICS ULTIMATES in May with issue #10.
With JOHN CARTER: THE GODS OF MARS, Humphries and artist Ramon Perez follow the events of the first John Carter novel, "A Princess of Mars," delving deeper into the world of Barsoom and the mythology the Martian people hold dear. Although he's still relatively new to comics, Humphries has a background doing hard-edge science fiction stories and appears an inspired choice to adapt Edgar Rice Burroughs' famous work.
For ULTIMATE COMICS ULTIMATES, Humphries and artist Luke Ross join Hickman as the team deals with the aftermath of the current story arc and promises changes afoot in the United States.
Marvel.com talked with Humphries earlier this week about John Carter's return trip to Mars as well as the Ultimates as they deal with the consequences of the series' events so far.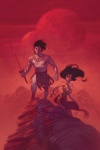 JOHN CARTER: THE GODS OF MARS #1 cover by Julian Totino Tedesco
Marvel.com: We talked with you back in December about JOHN CARTER: THE GODS OF MARS, but with the debut coming up in just a month and more details now released we wanted to go more in-depth. First off, what's the experience been like now that you've been able to dig into it and begin writing?

Sam Humphries: It's been awesome. Adding Ramon Perez onto the book has elevated the whole project to that proverbial next level. Every little sliver of art he shares on Twitter gets me pumped all over again. Our editor Sana Amanat has been a huge support, pushing us to make this book as rad as possible.
It's a bit overwhelming when trying to adapt a piece of fiction bursting with so many ideas. There's so much to choose from, and so much that by necessity gets left behind. On the plus side, no one will be able to say that this is a comic where nothing happens!
Marvel.com: This takes place 10 years after the first John Carter novel. How has that immense amount of time affected Carter when he finally does make it back to Mars?
Sam Humphries: Every year sticks in his ribs like a knife that won't stop turning. At some point during his first trip to Mars, it stopped being the place that trapped him, and started becoming the place he fell in love. The planet that used to be his prison became his home, and vice versa. Now that he's back on Mars, he'll do anything to be reunited with his true love, Dejah Thoris.
Marvel.com:  John lands in the one place he shouldn't be: the place on Mars that the natives consider the afterlife, the Valley Dor. How'd you go about fleshing out this strange place and work with the artist to get it depicted like you intended?
Sam Humphries: I focused on what the original novel tells us about the mentality and history of the civilizations that shaped the valley. Using Burroughs' text as a starting point, I tried to connect the dots about who these Martians were, what shaped them, what caused them to be, and how that might be reflected in their aesthetic choices. Every civilization reveals on Earth much about their character through the unique ways they interact with the natural world, and the civilizations of Mars are no different.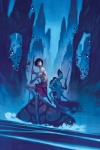 JOHN CARTER: THE GODS OF MARS #2 cover by Julian Totino Tedesco
Marvel.com: This story follows John as he goes into the mythological depths of Barsoom and runs across the beings the native people believed to be gods. What's it like contrasting a simple human like John with not just Martians, but Martian gods?
Sam Humphries: There's a lot to contrast between John and all the societies that populate Mars. He's an earthling, an American, a soldier. His sense of independence and freedom runs deep. John Carter is a great character to throw into the complex layers of interlocking civilizations; just by being in their midst he illuminates so much about them—and so much about himself. How he compares to the Martian gods themselves is integral to the core of the book—a key theme I'll keep to myself for now.
Marvel.com: This story also brings John Carter to his first meeting with the Red Martian Cathoris. Without spoiling his origin for those that haven't read the original Burroughs stories, can you describe this match-up between John Carter and Cathoris?
Sam Humphries: John and young Cathoris are both stubborn as mules. Thankfully, they meet in a dire situation that forces them to be allies, before they can piss each other off.
Marvel.com: As you mentioned earlier, since we last spoke Marvel revealed that Tale of Sand artist Ramon Perez joins you on this book as the artist. What's it like to have Ramon on board?
Sam Humphries: It's incredible having Ramon on JOHN CARTER: THE GODS OF MARS. The dude is like 12 gallons of creative genius in a 10 gallon hat. Tale of Sand is a beautiful book. Ramon's vision of Mars is like a dirty, rock 'n' roll version of that.
Marvel.com: You're doing this at the same time that the promotion for the John Carter movie pops up on television, movie screens and computers. Has the movie, even though it's not out yet, affected in any way the story you're telling here?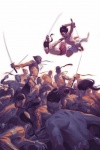 JOHN CARTER: THE GODS OF MARS #3 cover by Julian Totino Tedesco
Sam Humphries: It helps when I explain what I'm working on at parties. But, I've had no exposure to the movie except for those awesome trailers. Ramon and I are drawing from the original novels, just as the movie is. They're going to attack it in their way, and we're going to attack it in our way. I'm looking forward to seeing what they do in the film, and Ramon and I are dedicated to producing one of the most kick-ass additions to the ever-growing John Carter library.
Marvel.com: Moving onto your next big assignment, news came out earlier this week that you will be joining Jonathan Hickman as co-writer of ULTIMATE COMICS ULTIMATES. What excited you about coming onto this book?
Sam Humphries: There's absolutely nothing that doesn't excite me about the Ultimates. It's Captain America, Thor, Iron Man, the Hulk, and Nick Fury. A group of total badasses, turned loose in a universe where almost anything goes. This is "Watch the Throne" at Coachella on HBO, with no limit on the black card.
Hickman is a writer I have watched with admiration for many years, it's a challenge to me to step up my game. I'm going to learn a ton working with him. I'm excited to steal all his secrets.
What's not to love? This title, with these characters, and this creative and editorial team, we're going to make some dope comics. I'm so excited. I'm doing karate kicks in the air while blasting Iron Maiden, all day long.
Marvel.com: Can you describe for us how your collaboration with Jonathan has gone for this project?
Sam Humphries: Hickman dons the Immaculate Helm of the Prime Movement whilst I mentally project myself into the Eternal Avatar of Quetzalcoatl. We communicate our ideas in psychedelic n-space using Adobe Illustrator vector graphics, motion capture, and puppets. Then, arm wrestling.
Marvel.com: It's your first chance writing Marvel super heroes and you're doing it in the Ultimate Comics line. How'd you go about getting a feel for the world of Ultimate Comics?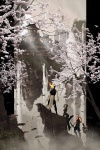 ULTIMATE COMICS ULTIMATES #10 cover by Kaare Andrews
Sam Humphries: A lot of reading. I've already enjoyed much of the Ultimate Universe over the years, but this time I have to look at it very differently. On the one hand, I want to understand and respect what has come before me. On the other hand, I want to focus on telling stories in this world that are meaningful to me as a writer. No one wrote a kick-ass Ultimate Comics story by ripping off the people before them.
It's crazy that the universe is a decade old; some of that material rings as fresh and as true as if it came out yesterday. 10 years of killer material is a tough act to follow, but I'm psyched to step up to the plate. Let's do this.
Marvel.com: Like you, Hickman carved out a name for himself in indie comics before making the leap here to Marvel. Have you and Jonathan had any conversations about your pasts that led you here to this opportunity?
Sam Humphries: Hickman has been very generous with his experience and advice, especially how to make the most of this incredible opportunity. We come from similar backgrounds, but what counts now is making the best book possible. It's invaluable to have someone from the indie trenches in my corner, watching over my shoulder, making sure I don't blow my own hands off with the fireworks.