By Jim Beard
50 Years ago, Tony Stark became Iron Man, a historic milestone in the tapestry of the Marvel Universe.
Flash forward half a century, and the Armored Avenger has become a worldwide sensation. Beyond his prominent role across the Marvel Comics line, Shellhead hit the big screen in 2008 as Robert Downey Jr. brought Tony Stark to life in the first "Iron Man" movie. The character's popularity grew in 2010's "Iron Man 2" and 2011's "Marvel's The Avengers."
On May 3, 2013, Tony Stark returns to theaters everywhere in "Iron Man 3." In anticipation of this momentous occasion and to celebrate Iron Man's 50th anniversary, each week Marvel.com will be bringing you another chapter in the history of this complex and beloved character. Year by year, get an in-depth rundown of the trials, foes and experiences that have made Iron Man the hero he stands as today.
You can start here.
Also, be sure to visit the Marvel Digital Comics Shop and Marvel Digital Comics Unlimited to read 50 years' worth of Iron Man adventures!
For Iron Man, 1999 came jam-packed with new health concerns, new romances, old romances, corporate intrigues and a big ol' dragon to boot.
The new War Machine that attacked Tony Stark and Jim Rhodes in IRON MAN #12 severely damaged our hero, so much so that his doctor, Jane Foster, had some bad news: ditch the armor or it'll kill you. Heading off to the Basel Stress Center in IRON MAN #13, Tony's bad luck followed him, with the founder revealed as Iron Man's old enemy, the Controller. Soon, Tony found himself under the villain's post-hypnotic control, trying to fire the Armored Avenger—himself! The flip side to this came in the form of a new chance for love, going by the name of Rumiko Fujikawa.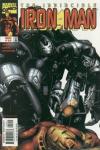 In IRON MAN #14, Stark aided the Fantastic Four in a battle on the moon against the alien Ronan the Accuser. Though the surly Kree lost the fight, he managed to make off with the plans for an incredible device called the Psyche-Magnetron. Meanwhile, on Earth, Rhodey fell into hot water in Casablanca. Tony upgraded his armor once again in IRON MAN #15 to allow his body to heal, just in time, for the explosive Nitro made a mess of trouble for our hero at a reception for a new Stark youth center.
The other-dimensional dragon Fin Fang Foom found a way to return to our planet, this time through a young man named Billy Yuan, as seen in IRON MAN #16. Squaring off against Iron Man in Seattle, the immense creature realized he'd chosen a strong-willed host when Billy resisted Foom's takeover of his body and sacrificed himself to open the dragon up to a blistering missile attack lead by Stark in IRON MAN #17.
Rival business owner Sunset Bain requested aid from Stark Solutions in interpreting data from an unknown source in IRON MAN #18. Tony finally recognized the source as the robot Jocasta, built by the Avengers' foe Ultron and currently inactive. When Bain called in her lackey War Machine to confront Iron Man in IRON MAN #19, Jim Rhodes countered with reminding the man in the stolen armor of a debt he owed from long ago, and, in IRON MAN #20, a revived Jocasta set her self-destruct sequence to stop Sunset Bain from succeeding in her plan to ruin Stark. Later, Tony offered to rebuild his comrade, using the master program he recovered before her meltdown.
Over in AVENGERS #19, Iron Man went to war with his fellow heroes against Ultron after the evil mechanoid laid waste to an entire European country. During the proceedings, Stark admitted to the heroine Firestar that Ultron represented the dark side of technology to him, and therefore hit close to home for the inventor and industrialist.
IRON MAN #21 brought the Golden Avenger into a strange scenario with a group of godlike beings who millennia ago entered into a wager to seed the planet with powerful totems. After alerting the Avengers about Inferno, he faced off against Carnivore in IRON MAN #22, and then joined with Thor and Spider-Man in PETER PARKER: SPIDER-MAN #11 to try and stop the eighth and final Exemplar from becoming a reality. The entire thing came to a head in JUGGERNAUT #1 when the collected heroes battled the God Machine and saved the world once again.
After a trying year, Iron Man discovered a ship powered by a dormant Ultimo that Rumiko and her company experimented with in IRON MAN #23. Shocked, he wanted no part of it, and, running from Rumiko he found comfort in the arms of his old love: Pepper Potts. Then, Ultimo awoke…
Check out IRON MAN (1998) on the Marvel Digital Comics Shop and Marvel Digital Comics Unlimited.