By Tim Stevens
Hippolyta (No Last Name) is an adult female who presents as in excellent physical condition. She typically arrives in attire that is inappropriate for a therapeutic setting including an armored bustier, elaborate headgear, wrist gauntlets and what this writer can only describe as bikini bottoms. She also is generally armed in some way, usually with what she assures the staff is a "ceremonial sword." Although she has been spoken to about her clothing on several occasions, she has openly refused to alter them, explaining that they are, essentially, culturally normal for her people and therefore she does not deem there is any necessity to change, regardless of how we feel.
In general, this attitude colors most of the therapeutic relationship. The client is big and boisterous in personality, telling wonderful stories and quick with a laugh. She gets along incredibly well with staff and those clients in the waiting room when she arrives seem to get a tremendous kick out of her, once they get over her physicality and attire. However, she is endlessly disrespectful to the rules of all aspects of the therapeutic process. She has little interest in adhering to norms of the environment or considering this therapist's interpretations.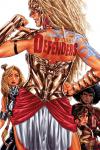 In fact, it is quite unclear why Hippolyta has sought out therapy in the first place. She has alluded to a near—or perhaps literal—death experience. She identifies as an Amazon and seems to have said things that might indicate she believes she is a deity of some kind. However, she has shown no interest in engaging the death experience and the Amazon issue is still being treated as accurate, in line with our policy towards other such clients who indicate some kind of mystical connection or immortality: we accept it at face value until there is some indication of further delusional behaviors.
And yet, the client continues to show up, on time, for sessions. She has, as expected, rejected suggestions of ending therapy at this time until she has decided to utilize it more effectively. She has resisted all but the most general of goal setting. The client seems to only be in therapy because she wants the audience. She enjoys telling stories and the seemingly rapt attention many interpret therapy to be about, but has little interest or need to commit. Unfortunately, at this time, we are at impasse as we cannot force her to stop coming or to disclose.
It should be noted that there is no evident connection between Hippolyta, who is sometimes called Warrior Woman, and the World War II Nazi sympathizing Warrior Woman. Additionally, the client does not appreciate any questions regarding possible connections.
Hippolyta has made it clear to staff she will be back on May 8 to meet with Doctors Cullen Bunn and William Sliney. Please review details in FEARLESS DEFENDERS #4.
Psy D. Candidate Tim Stevens, MA is a Dialectical Behavior Therapy Consultant and Practicum Trainee who currently provides therapy and outreach at a state university.