By Tim Stevens
Rachel Grey is a self-identified mutant who has also gone by the name Rachel Summers and the "codenames" Phoenix and Marvel Girl. The client claims to come from a vaguely post-apocalyptic future where mutants were either killed or shunted off to concentration camps and is the child of that timeline's Scott Summers (the currently at-large criminal Cyclops) and Jean Grey (a deceased member of the X-Men mutant rights group who also used the monikers of Marvel Girl and Phoenix while she was alive). Records provided by the Jean Grey School appear to validate these claims despite the admittedly complex and far-fetched nature of them.
Prior to her arrival in our timeline, the client was drugged, hypnotized, and used as a sort of tracker to "discover" other mutants in hiding; she was a so-called "Hound." In and of itself, this has the potential to be a traumatic experience. However, Grey's power set "allowed" her to experience the pain of those she hunted down despite being not otherwise in control of her faculties. Therefore, their fear, pain, and hopelessness became her own. Eventually she was able to overcome the programming and was sent to the mutant camps. These were her home until she landed in our timeline.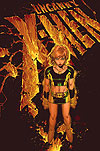 Unfortunately, arriving in our present did not prove an escape from trauma for her. Initially, she found her "mother" Jean was dead and her "father" Scott was married to another woman who was pregnant with his child. Jean did eventually return to life, but their relationship was initially frosty and distant, despite the client's efforts. Although things eventually improved, this was not a healthy introduction to those she had once known as family in her own timeline. This was recently compounded by the dissolution of Scott and Jean's relationship, his affair with Emma Frost, and Jean dying once more. It was during this time that the client dropped Summers as her surname in favor of Grey as both a rejection of her "father's" choices and to honor her "mom."
In addition to this kind of relationship trauma, Grey has also experienced a wide range of physical traumas, losses of power, and seeming deaths of her own. She has been exiled from Earth in space and in Mojoworld, an alternate dimension that revolves entirely around entertainment, usually of a horrible and deadly nature. In short, only in comparison to the possibility of living out one's days in a concentration camp that boasts killer robots as guards can one judge her life as an improvement in safety and comfort.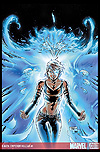 Not entirely unexpectedly, given this history, Grey can often come across as brittle and closed off. In session, she has been slow to trust and to connect and can often get "spooked" leading to the therapeutic relationship seemingly receding several stops. On the other hand, she seems dedicated to the idea of therapy and has a genuine desire to improve her mental well-being. She presents as intelligent and thoughtful, even at the moments she chooses to not fully participate in the process.
At this time, much of therapy is concentrated on where she'd first like to focus. This writer has been trying to guide her towards either her feelings toward this world's Scott Summers, especially given recent events, or to her time as a "Hound," but the client seems not fully ready to deal with either. As she ponders this, we are focusing on more in the moment events, the development of skills to deal with anxiety and depression, and continuing to grow the therapeutic bonds.
Rachel Grey is scheduled to meet with Doctors Brian Wood and Olivier Coipel on May 29. Please refer to file X-MEN #1 for details.
Psy D. Candidate Tim Stevens, MA is a Dialectical Behavior Therapy Consultant and Practicum Trainee who currently provides therapy and outreach at a state university.