By Tim Stevens
Robert "Bobby" Drake is an adult male who presents as average to above average in his physical fitness. A self-identified mutant, Drake was one of the first students of the Xavier School for Gifted Youngsters and founding members of the mutant rights group the X-Men. He remains a member of the X-Men under the name "Iceman" and currently teaches and handles the accounting of the Jean Grey School for Higher Learning.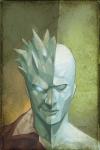 Of all the original students from the Xavier school, the client has the reputation of having changed the least over time—Henry McCoy (Beast) became furry and blue and has continued to evolve his appearance since, Scott Summers (Cyclops) has been increasingly militant in his approach to mutant rights, Jean Grey lost control of her powers and has died multiple times, including currently, and Warren Worthington (Angel) became Archangel, aligned himself with Apocalypse, died, and returned as a fairly blank slate—and it is both a burden and a gift to him. He appreciates his (relative) lack of personal upheaval but sometimes feels obligated to act goofy and carefree to maintain the appearance, for the sake of others. Unfortunately, he often feels that he is taken less seriously by his peers because of this.
This need to present as he has always been has fueled significant isolation as of late. The client has been experiencing significant reoccurring nightmares that have left him unnerved and negatively impacted his sleeping patterns. He has mentioned, in passing, his difficulties to others but has always been quick to minimize and move on, disclosing his full concerns on the matter.
Additionally, someone has been posing as him and calling his ex-girlfriends without his knowledge. He has no idea why this might be happening, which has left him both confused and more than a little bit scared. Unfortunately, it has also negatively impacted his new relationship with friend and co-worker Katherine "Kitty" Pryde, who was put off by his seeming lack of interest in her when several former romantic interests showed up within moments of each other.
Drake has also had to deal with his past self, from the early days of the X-Men's founding, having traveled to the present time. In addition to the usual embarrassment of "can you believe I used to sound/dress/think like that" he's also seen what he—and the X-Men in general—has gained and given up in the time since and found himself disappointed about several of those losses.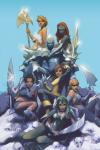 We are continuing to develop our therapeutic alliance in session. "Homework" so far has revolved around encouraging the client to be his "full" self, to not restrict himself to only positive emotional expressions, and to trust his friends, co-workers, and teammates to still care about him even when he is not always "on." Additionally, we have been working on developing certain skills to increase his effectiveness in social situations, particularly romantic ones. Finally, as of late, we have spent significant time on his nightmares, both trying to discern what waking hour issues might be fueling them as well as how he might manage them through lucid dreaming.
Robert Drake has future appointments set with Doctors Jason Aaron and Nick Bradshaw on May 29 (see file WOLVERINE AND THE X-MEN #30 file), Doctors Brian Bendis and Stuart Immonen on June 5 (see ALL-NEW X-MEN #12 file), and Doctors Marjorie Liu and Gabriel Walta on June 12 (see ASTONISHING X-MEN #63 file).
Psy D. Candidate Tim Stevens, MA is a Dialectical Behavior Therapy Consultant and Practicum Trainee who currently provides therapy and outreach at a state university.