By Tim Stevens
Layla Miller is a female who presents as an adult. There has been some question whether her level of physical maturation corresponds with her actual chronological age and/or her level of emotional and psychological maturation, but the client maintains that they do and, if anything, it is when she appeared more childlike that things were not properly aligned. The client also presents as being in average to above average physical fitness, with no prominent physical limitations, and is able to fulfill any and all activities of daily living (ADLs). How she came to be an "adult" may be unconventional but an extensive physical exam done by our clinic's medical partners does not find that there have been any dangerous medical consequences in the physiology of the client's body or brain.
Client self-identifies as a mutant and summarizes her mutant gift with the statement that she "knows stuff." She refuses to describe the power in more detail or how it works claiming that to do so would have dire consequences to her or others. This writer has not pressed the issue as it does not seem relevant to therapy at this time. However, it is important to monitor as it may be indicative of delusion. Miller is currently a member of the for-mutants by-mutants private investigation firm X-Factor Investigations and is married to founder and fellow Investigator Jamie Madrox (also known as "Multiple Man"). The client has also gone by the "mutant" or codename of Butterfly but does so very rarely.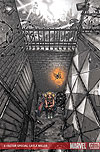 As previously mentioned above, although the client was only a child a few years earlier, she is now a full grown adult. On the way to becoming so, she has been subjected to an apparently alternate timeline in which mutants are kept in internment camps. She was stranded there for a period of time, apparently instigating a full-scale revolution, the so-called "Summer Rebellion," before finally making her way back to her "native" timeline. Although arguably traumatic, her time in this alternate place seemed to have only strengthened her resolve. The client characterizes it as having both taught her limits and affirmed, for her, her abilities. She was similarly largely unaffected by being sent back too far into her past after another excursion, with Madrox, to the alternate timeline.
Consistent with observations made by Dr. Leonard Sampson and reports by her teammates, the client is oriented towards the greater good and self-sacrifice. Having said that, however, she has shown increasing signs of becoming more personally involved with those around her and therefore more likely to make "selfish" choices. This is perhaps best highlighted with her resurrection of the Guido Carosella (Strong Guy) after his death which she claims was about sparing Monet Yvette Clarisse Maria Therese St. Croix (M) the pain of guilt as they were teammates and, evidently, eventually going to be best friends.
In general, although she presents unconventionally, Miller does appear to have a normal, healthy range of emotions and is capable of expressing them in appropriate manners. She has the capacity for empathy, even though she does seem to actively suppress it at times in the name of "knowing stuff;" as noted, that seems to be happening less and less the more she develops relationships to those around her. The client is a quite capable manipulator and often conceals information for others, which she claims is motivated by her desire to ensure the greater. However, as with empathy, the deeper her relationships have grown, the more she has been open and honest with those around her.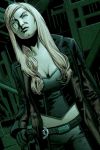 As a therapist, this writer is dedicated to helping the client continue to deepen her bonds to others and to develop her sense of appropriate withholding versus deception and manipulation. Despite a rebellious streak and a clear desire to prove her intelligence superiority, she seems receptive to therapy and does appear to be developing a therapeutic bond with this writer.
Layla Miller's next appointment is scheduled with Doctors Peter David and Neil Edwards on June 5. Please see file X-FACTOR #257 for details.
Psy D. Candidate Tim Stevens, MA is a Dialectical Behavior Therapy Consultant and Practicum Trainee who currently provides therapy and outreach at a state university.