By Brett White
After making a bloody splash as an X-Force villain just over 20 years ago, Deadpool has grown from a cult favorite second banana to Marvel's most notorious leading mercenary.
On June 25, 2013, comic book fans everywhere will get to experience life in the red and black tights when Deadpool's first ever video game breaks its way into stores. This marks Wade Wilson's first time headlining a game after appearing in other titles like "Marvel: Ultimate Alliance" and the Marvel vs. Capcom series.
To celebrate this momentous occasion, we're giving you an in-depth look at Deadpool's history, from his humble beginnings as X-Force's snarkiest foe all the way to today.
Be sure to visit the Marvel Digital Comics Shop and Marvel Unlimited to brush up on your 'Pool history!
Deadpool took his mercenary career to new level in DEADPOOL #65 when he took out four powerful crime lords. With business booming, Wade started Deadpool Inc. and hired an assistant named Sandi. His first mission as a proper businessman sent him straight into the clutches of Black Swan, who planted a virus in the merc's mind and erased all memories of their encounter. DP kept taking on missions, including one that left him with a shrunken Rhino, and another working as Dazzler's bodyguard in DEADPOOL #67.
With Wilson's memory failing thanks to Black Swan's meddling, his allies Sandi and Taskmaster helped him track down the villain's castle. Deadpool learned that Black Swan actually killed the crime lords and sought revenge for not receiving proper credit. But just as Black Swan and Niro, the brother of one of the dead crime lords, seemed defeated, Wade's bomb went off, destroying the castle.
DP disappeared for a stretch of time, next showing up as Black Swan's brain dead accessory used to intimidate a new merc: Agent X. Alex Hayden had been discovered by Sandi in AGENT X #1 and, alongside Taskmaster and firearms specialist Outlaw, they formed Agency X. AGENT X #13 revealed that the explosion had affected Black Swan, Deadpool and Niro, mixing all of their identities together. Niro, possessed of Wilson's scar tissue and attitude, became Agent X. After a predictable double cross from Black Swan, everything fell back into place in AGENT X #15, with Deadpool and Niro each fully restored.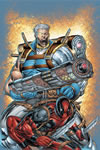 Wade Wilson returned full time in CABLE & DEADPOOL #1, when the Merc with a Mouth got hired by the One World Church to steal a virus created to unite humanity under one skin color: blue. He ran afoul of a newly-super-charged Cable, who used his all-powerful telepathy to save the entire world from the One World Church's plan—after he got his DNA mixed up with 'Pool. On his space station Greymalkin, Cable and Deadpool discovered that due to their genetic mix-up, the other person came along any time either teleported.
Cable turned Greymalkin into the more peaceful island called Providence in CABLE & DEADPOOL #7, and invited the world's brightest minds to join him. He did not expect DP to answer that call, but he had been hired by the X-Men to stop Cable's global aspirations. But afraid that his powers would burn out and kill him, Cable forced Deadpool to lobotomize him. Wade obliged.
'Pool immediately went on a quest to save Cable's life in CABLE & DEADPOOL #11. Using the unique qualities of a techno-organic alien he got from M.O.D.O.K.—your leading supplier of techno-organic aliens—Deadpool forced Cable out of his coma and made him heal himself, which unfortunately didn't include recovering his telepathy.
With Nate a bit more stable by CABLE & DEADPOOL #20, Wade set out on a job to steal the Dominus Objective, a computer virus created to sift through massive amounts of online data. The merc got into fights with BAD Girls, Inc. as well as Luke Cage and Iron Fist before coming to blows with, yep, Cable, who linked with the Dominus Objective, thus giving him instantaneous mental access to the Internet and quasi-replacing his telepathy.
Deadpool reunited with his old pals Blind Al and Weasel in CABLE & DEADPOOL #36 in an attempt to get back into the mercenary game after his continued association with Cable muddled his rep. He busted Taskmaster out of prison in exchange for a big public bout, one that would prove to employers—that DP kidnapped—that he could still bring the pain. Wilson beat Taskmaster, but the captives were turned off by his lack of professionalism, what with all the kidnapping.
Wade's attitude brightened a little when he took a job to rescue his old imposter Agent X from HYDRA. The great escape gained him a sidekick, a HYDRA agent named Bob, who replaced the pal he accidentally left behind during the mission: Weasel. The rescued Alex Hayden offered Agency X to Deadpool, but Wilson turned down the offer. 'Pool and Agent X then took on the still-hungry-for-vengeance T-Ray, who met up with the gruesome end of Wade's katana in CABLE & DEADPOOL #39.
Back on Providence, Cable's recent tenure as an X-Man brought a whole mess of destruction in CABLE & DEADPOOL #40. Sabretooth went on a killing spree that led to the destruction of Cable's home, with the mutant messiah sacrificing his life for Deadpool and their few remaining allies.
Wade then retrieved Weasel from HYDRA with the help of Bob in CABLE & DEADPOOL #43, but their rescue mission came with an unwanted side effect of time displacement. Bob and 'Pool found themselves hurtling through time, getting in the way of Captain America and Bucky in World War II. In the present day, Weasel convinced the Fantastic Four to bring the duo home using time travel tech.
Deadpool and Bob then teamed up with—and in some cases fought against—Doctor Strange, Brother Voodoo, Ka-Zar, and an unbelievable number of Venom-symbiote covered dinosaurs. DP saved Manhattan from the Venomasaurs alongside the Avengers, but even that marvelous team-up didn't stop the press from blaming the dino insanity on him. But that didn't bug Wade Wilson all that much, because he could watch the televised bad-mouthing with actual friends.
Check out DEADPOOL (1997), AGENT X and CABLE & DEADPOOL in the Marvel Digital Comics Shop, plus on Marvel Unlimited.