By Ben Chabala
Every week we'll pick a handful of awesome comics from the thousands available through Marvel Unlimited. From creator spotlights to editor's picks and more, this'll be your spot to find something new and cool.
Carnage hijacks the limelight this week in preparation for the SUPERIOR CARNAGE limited series dropping in July. Learn more than you ever wanted to know about this mayhem-loving maniac right here!
Someone or something just murdered one of Peter Parker's friends, and from what he can gather from the terrified witnesses, it looked a lot like a certain symbiote. The intrepid photographer does a little digging and discovers that this new monster, a psychotic murderer named Cletus Kasady, spent time locked up with Venom. Somehow this nut got his own symbiote, and instead of using it to try and flatten the Spider, he's calling himself Carnage and killing his away across the city. Can Spidey put him down before he kills again, or will the arachnid Avenger become the next name on Carnage's list?
Venom's back, returning to the Big Apple not to satisfy his lust for Spider-Man's blood, but rather to rip his unholy offspring a new one. However, it may take more than just the mad dad to teach Carnage a lesson as the demented symbiote has friends now. Will even the combined might of Spider-Man and Venom be enough to stop Carnage, Shriek, and Doppelganger from painting the town red?
It's a rumble in the concrete jungle as two symbiotic titans slam and crash across the New York City skyline. Why? Carnage carries a spawn in him—he's going to be a daddy! Kasady wants to finish off the kid right quick, but Venom means to protect his lineage and Officer Patrick Mulligan gets caught in the crossfire. The just birthed baby pile of extraterrestrial goo chooses him as its host, creating an all-new alien life form: Toxin!
The Sentry ripped Carnage in half and left him stranded in Earth's orbit, but somehow the crazed killer has made his way back to terra firma. As a matter of fact, the whole gang's getting back together. Shriek and Doppelganger show up in midtown Manhattan, causing some serious trouble for your friendly neighborhood Spider-Man and Iron Man. Then two new mobile suit agents, Royal Blue and Firebrick, show up spouting business speak and talk of trade secret violations. Who's behind all this madness?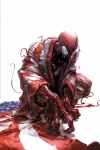 Never one to rest on his laurels, Kletus Casady has reinvented himself as the absolute ruler of Doverton, Colorado. No longer satisfied with simple wholesale slaughter, he figures he'll try his hand at municipal government. His symbiote carpets the town an inky blood red, moving through the pipes and taking control of everyone within the city limits. Captain America, Spider-Man, Hawkeye, Wolverine, and the Thing jet out to put an end to the deranged murderer's delusions of grandeur, but when the dust clears, Spidey's the only one not infected by the slime. Uh oh.