By Tim Stevens
Jean Grey is a young adult female who presents as in above average physical fitness. She is a self-identified mutant and the ruler of the so-called mutant nation Tian. The client began her public life as a member of the first class of students under Professor Charles Xavier, but has largely abandoned his ideology and severed most ties to her then-classmates.
It should be noted that this writer has not worked with Grey in some time. My observations are based on past sessions and what I know of her current actions from various news and personal sources. As such, it is inappropriate for this writer to speak to issues like future dangerousness in reference to the client.
At the conclusion of our therapeutic relationship, Grey had been living her life under a different name, distancing herself from her past. She was struggling with personal tragedies and a loss of identity that centered away her losing "faith" in Charles Xavier's vision of a world in which mutants and humans could live in relative peace and harmony. She had experienced the violent deaths of her mentor and her romantic partner as well as several others classmates and was experiencing a range of reactions including what is typically referred to as "survivor's guilt," anger, and a sense of almost cosmic betrayal.
In session, she presented as, by turns, enraged, spiteful, despondent, and hopeless. She was visibly uncomfortable with this writer's status as a non-mutant and this, eventually, proved to be too much for her and she ceased our therapeutic relationship.
Sometime after that, Grey's boyfriend was slain by two individuals unidentified in the local press and the client disappeared. Eventually, she arrived in the nation of Tian. There, it appears she finally fully gave up on the idea of mutant and humankind peacefully co-existing and began to speak of the need for a separate existence.
In contrast to the woman this writer came to know as a client, Grey now presents with seemingly unshakeable confidence. Although I have come across rumors of a temper, she publically looks almost cold. To use unscientific parlance, she has the presentation and rhetoric of a true believer. Of course, the temper does not necessarily run aground of this presentation. As a true believer, she may find it difficult to speak to those who do not share her commitment or vision as fully and impossible to deal with those who would disagree with her.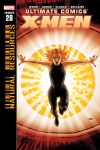 In light of this, I do find it entirely possible that she is behind recent actions against the U.S. reservation known as Utopia and can see these actions becoming increasingly frequent and larger in scale. It seems  Grey is committed to seeing her vision come to fruition and unlikely to spare much mercy for those who would stop her from doing so. Given her stated beliefs in mutant separatism, it is very possible she sees Utopia as a sort of cousin state to Tian and the oft-stated commitment of the residents there to live in accord with their non-mutant brothers and sisters to be an insult to what she now stands for.
For further insight into Jean Grey's current state of mind, this writer recommends the research of Doctor Brian Wood. His latest volume on mutants is called ULTIMATE COMICS X-MEN #30 and is available for review on August 14.
Psy D. Candidate Tim Stevens, MA is a Dialectical Behavior Therapy Consultant and Practicum Trainee who currently provides therapy and outreach at a New York located university.