By Ben Chabala
Regularly on Marvel.com, we'll pick a handful of awesome comics from the thousands available through Marvel Unlimited. From creator spotlights to editor's picks and more, this'll be your spot to find something new and cool.
Come September 18, the Jester makes his return to the sleazy streets of Hell's Kitchen in DAREDEVIL #31. To commemorate this auspicious occasion we're calling up old ghosts and showing off five of DD's classic villains, only in Unlimited Highlights.
Leland Owsley, nicknamed the "Owl of Wall Street" for his shrewd fiscal foresight and financial wizardry, has finally been exposed for his less than legal dealings. Unfazed by looming law enforcement action, he gives himself fully to his dark side, embracing a life of crime as the Owl. Lackeys like Sad Sam and Ape soon flock to his growing shadow, and he proves himself equal to his moniker, displaying uncanny avian abilities. Then, when he kidnaps Daredevil and Karen Page, he sparks what may be longest feud in Matt Murdock's long crime fighting career.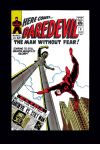 Stilt-Man stands tall as one of DD's oldest, and oddest, enemies. Mild mannered Wilbur Day wants to sue his employer, inventor and industrialist Carl Kaxton, for patent infringement over a new kind of hydraulic lift. Matt Murdock, always willing to help out the underdog, takes the case, but soon discovers not everything is as it seems. In no time he finds himself face to leg with an enormous silver strider over 10 stories tall! Can Daredevil cut Stilt-Man down to size and figure out who's behind these skyscraper capers?
The Gladiator might not be the sharpest tool in the shed, but the shiny saw blades on his gauntlets make that a moot point. However Melvin Potter couldn't have picked a worse time to harass the people of Manhattan if he tried—it's Foggy Nelson's wedding day. Will the best man, a certain Hell's Kitchen hellion, put down the deluded but deadly hooligan before the church bells chime, or will he miss his best friend's nuptials?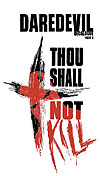 The Jester, a strict C-lister in the super villain scene, bit off more than he could chew when he decided to dabble in the dark arts. Sure he can go toe-to-toe with Daredevil, but now something's eating him from the inside out. A malignant magical force feeds off the Jester's fear, hate and anger, and makes no qualms about absorbing the same from people around him. Matt Murdock faces down the Jester and this devious and devilish entity in a church basement, surrounded by victims of the villain's crimes. Does Jester have what it takes to overcome the evil within, or will Daredevil be forced to perform an impromptu, and potentially fatal, exorcism with his fists?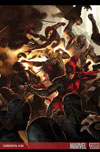 Matt Murdock doesn't scare easily, which makes Mister Fear and his assorted bag of tricks so terrifying. If he can push the Man Without Fear over the edge, imagine what he could do to one of us. Not even Daredevil's hyper senses can save him from Fear's psychotropic assault, and the blind hero finds himself facing down his deadliest enemies, reliving his greatest failures, and flashing back to his most heartbreaking tragedies. Struggling with all his might to keep a hold on his sanity, DD dangles above the abyss with only a billy club to save him from the blackness.