By Tim Stevens
S.H.I.E.L.D. Director Maria Hill presents as an adult female in above average physical condition. She recently has been serving as Acting Director, ostensibly holding the position while Daisy Johnson's ascension to the position went through the proper channels. However, after an incident that this writer does not have the proper clearance to know about, Johnson has been suspended and the client is once again the full-fledged permanent Director, a position she has almost achieved multiple times, only to be derailed by scandal and/or international incidents.
The client has previously disclosed ambivalence regarding both the Director's position and the costumed heroes it forces her to interact with. While interested in achieving responsibility and rising rapidly through the ranks, she also feels, at times, that she has achieved too much too quickly. This was most evident after the event known colloquially in the press as "Civil War," when she confessed that Tony Stark probably deserved the position over her, a declaration she came to regret rather quickly. This writer attempted to explore how these feelings might reflect a certain internal script that may have come from her treatment at her father's hands as a child, but Hill was dismissive and refused to engage in any said discussion.
Similarly, the client is very tight-lipped regarding her feelings towards "super heroes." She admits that she does not like them and feels that they are an ill fit for the work she does and generally make things worse, not better. However, she asserts she has no interest in exploring this any further and will often become subtly but still visibly annoyed.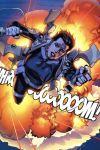 While her ambivalence about her position and her co-workers is certainly worth paying attention to, there is no doubt that the client is competent, intelligent, and an incredible asset to S.H.I.E.L.D. This writer feels very comfortable signing off on her ability to serve the organization and to do so in the role of Director. I would certainly encourage Director Hill to explore her past more in-depth, especially as it pertains to her father and his inappropriate view of her as the cause of the death of his wife (her mother) due to complications that occurred while the client was being born. I do not, however, feel the client's reluctance to do so is any reason to suspend, demote, or otherwise remove Hill from the organization or her current position.
Maria Hill will attend a second evaluation with Doctors Nick Spencer and Luke Ross on August 28. The final report will be available for review in the file labeled SECRET AVENGERS #8.
Psy D. Candidate Tim Stevens, MA is a Dialectical Behavior Therapy Consultant and Clinical Intern at a small New York City university.