By Jim Beard
Over seven decades ago, history occurred with the debut of Captain America in 1941. 70 years later, Steve Rogers and his star-spangled alter ego have grown to iconic status, remaining a mainstay of the Marvel Universe while also expanding into the realms of television, film and more.
On April 4, 2014, the Sentinel of Liberty returns to the big screen in "Captain America: The Winter Soldier" from Marvel Studios. As the countdown to Chris Evans picking up the shield once more heats up, we present the definitive comics history of Cap, from his debut to the modern day.
Follow along with us weekly and look for more Captain America on Marvel Unlimited and through the Marvel Digital Comics Shop.
In 1977 Steve Rogers flew to the aid of allies both new and old, but also met a strange individual who'd soon become one of his greatest foes ever—all at that cost of one of Cap's most important senses.
After wrapping up a huge case involving Doctor Doom in AVENGERS #155, Captain America closed in on a madman who'd defeated the Falcon in CAPTAIN AMERICA #205. That crazed entity, Agron, transformed into pure energy but became trapped in a special holding tube after being tricked into by our hero and agents of S.H.I.E.L.D.
Cap helped Earth's Mightiest Heroes defeat Graviton in AVENGERS #158 and #159, then found himself and Sharon Carter gassed in CAPTAIN AMERICA #206 by operatives of a Central American prison commander called the Swine. The cruel man's cousin, the beautiful Donna Maria, held out hope that a hero would soon arrive and put an end to the Swine's terror-hold on the prison. While being transported to Rio de Muerte in CAPTAIN AMERICA #207, Cap's plane crashed, plummeting him into the clutches of the Swine. That enthused Donna Maria, but not the zombie-like prisoners whose spirits faltered under their oppressive taskmaster.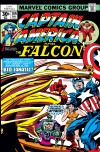 Making his escape in CAPTAIN AMERICA #208, Cap battled a river monster only to find himself recaptured and thrown into a pit with Donna Maria. Alas, the monster from the river arrived to deal out justice to the Swine and his cohorts, then return to its master, the bio-engineer Arnim Zola. The former Nazi scientist commanded his creature Doughboy to capture Cap and Donna Maria, then shot them into space to travel to his castle in Switzerland, all in CAPTAIN AMERICA #209. During the journey, the pliable Doughboy disgorged another entity, Primus, who promptly attacked our hero, defeated him and claimed the girl as his prize.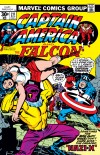 It turned out that Primus harbored feelings of resentment toward his maker, but bided his time when they all arrived at Castle Zola in CAPTAIN AMERICA #210. Meanwhile, back in the States, Sharon Carter investigated the alleged financier of Zola, millionaire Cyrus Fenton, who stood revealed as the Red Skull when Sharon paid him a visit. At the castle in the Alps, Nazi X, another creation of Zola's, attacked Cap in CAPTAIN AMERICA #211. Steve tried to escape but when the bio-fanatic Zola turned the very castle itself against his foe he knew the odds seemed stacked against him—especially when Zola revealed that Nazi X's brain once belonged to none other than Adolph Hitler himself.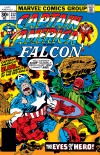 Sharon Carter, with the Red Skull in tow, arrived at the castle in CAPTAIN AMERICA #212 to find it going up in flames. The S.H.I.E.L.D. agent's chemical weapon proved helpful to defeat Primus and the rest of the monstrosities, but blinded Cap in the process. S.H.I.E.L.D. arrived in the nick of time to pull everyone out, leaving Zola and the Skull behind to become engulfed by the conflagration.
Hospitalized and still blind in CAPTAIN AMERICA #213, Steve Rogers heard a new patient, known only as the "Defector" brought into his ward. Night Flyer, an assassin, came calling to do away with the mysteriously bandaged man, but the Falcon intercepted the plan and put an end to it. Though blind, Cap tried to help and got his sight back after a battle with the downed Night Flyer in CAPTAIN AMERICA #214.
After rejoining the Avengers for an immense struggle against the powerful Count Nefaria in AVENGERS #165, Cap revisited his origins in CAPTAIN AMERICA #215 and asked himself the question, "Who is Steve Rogers?" The search for an answer would dominate the year to come.
Read more CAPTAIN AMERICA (1968) on Marvel Unlimited!