Today, the world at large knows the Avengers from not only comics, but their exploits on the small screen, in theaters and beyond. But 50 years ago, AVENGERS #1 saw Earth's Mightiest Heroes assemble for the very first time to combat the threats none could overcome alone.
In the five decades since, dozens of men, women, aliens, machines, etc. have called themselves Avengers. From villains who once opposed the team to ordinary humans rising to the challenge and every form of hero in between, the top team in the Marvel Universe boasts the most impressive all-time roster around.
To celebrate the Avengers' 50th anniversary, Marvel.com called upon a panel of experts that included fans and professionals alike to pick the 50 al-time greatest members of the team. This list will unfold in five parts and feature write-ups as well as information and digital comics links spotlighting each Avenger.
Please let us know what you think of our selections and share your own by tweeting @Marvel on Twitter and using the hashtag #Avengers50

Read part one!

Read part two!
Read part three!


50. THE TWO-GUN KID
49. JESSICA JONES

46. SHANG-CHI

IRON FIST

ANT-MAN (Scott Lang)

45. STINGRAY

43. U.S. AGENT

THUNDERSTRIKE

42. ARES
41. FIRESTAR

40. SWORDSMAN

38. MOONDRAGON

MANTIS

36. HAVOK

JUSTICE

35. HELLCAT

34. THE THING
33. MADAME WEB

32. NAMOR
31. IRON PATRIOT

30. MOON KNIGHT

28. SPIDER-WOMAN

JACK OF HEARTS
26. QUASAR

DOCTOR STRANGE

25. SPIDER-MAN

24. THE BLACK KNIGHT

23. MOCKINGBIRD

22. TIGRA

21. SHE-HULK


20. SPECTRUM
First Appearance:
AMAZING SPIDER-MAN ANNUAL #16

Joined the Avengers:
AVENGERS #227

Why She's #20:
"While Carol Danvers has earned the title of Captain Marvel, Monica deserves full credit for serving the name first with valor, honor and integrity, both as a member and as leader of the Avengers. Her ability to transform herself into any form of electromagnetic energy might be extraordinary, but her real strengths come from her quick wit and level head. Whatever code name she goes by, she's an asset to the Avengers." –
Andrew Wheeler

Digital Spotlight Comic:
AVENGERS #279


19. HERCULES

First Appearance:
JOURNEY INTO MYSTERY ANNUAL #1

Joined the Avengers:
AVENGERS (1963) #38

Why He's #19:
"If you had Captain America or Iron Man design a perfect Avenger from scratch, they might just come up with Hercules. Steadfastly loyal, unerringly brave and always up for a fight, the legendary hero of myth serves as an asset to any who call him ally. When the team hurt for raw strength following the departure of their original line-up, the Prince of Power gave them a boost and has returned time and again to his comrades through the years to provide muscle and a hearty douse of enthusiasm." –
Ben Morse
Digital Spotlight Comic: AVENGERS (1963) #50
18. THE HULK
First Appearance: INCREDIBLE HULK (1962) #1
Joined the Avengers: AVENGERS (1963) #1
Why He's #18: "Few have sacrificed and forgiven so much in pursuit of bettering a world so eager to be rid of him. Though a frequent antagonist to his fellow Avengers, Dr. Bruce Banner heeded the call to assemble as one of its charter members. His teammates once jettisoned him into outer space and his revenge spree came to be known as his own eponymous World War, but Banner and even Hulk himself always return from the cusp of villainy to defend the Earth as one of its mightiest heroes. Who else could boast bearing the weight of an entire world to see his friends to safe passage? Though the pants may shred, the card carried in those countless pockets remains a crucial link to his identity." – Paul Montgomery
Digital Spotlight Comic: AVENGERS (1963) #2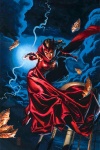 17. THE SCARLET WITCH
First Appearance: UNCANNY X-MEN (1963) #4
Joined the Avengers: AVENGERS (1963) #16
Why She's #17: "For a time the Avengers consisted solely of humans and heroes. This made for quite the shock when they welcomed mutants and former villains the Scarlet Witch and Quicksilver with open arms. Wanda Maximoff's history with the team has been long-lived and tumultuous. On the Avengers she met, fell in love with, and eventually married the sentient android Vision. But her actions and loss of control over her powers led to the death of several heroes, her husband included, and the dissolution of the entire team. Currently the Scarlet Witch serves as a member of the Uncanny Avengers, who fight amongst foes within and without, for the integration of humans and mutants." – Ryan Haupt
Digital Spotlight Comic: AVENGERS #161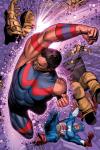 16. WONDER MAN
First Appearance: AVENGERS (1963) #9
Joined the Avengers: AVENGERS #154
Why He's #16: "Several heroes on this list launched their careers as criminals in direct conflict with the Avengers only to reform and join their ranks. How many of them went on to exit the group to pursue bloody retribution against the Earth's Mightiest Heroes and every death they caused over the years? Simon Williams suffered just such a sea change in the hellacious years following the endowment of his iconic energy powers by Baron Zemo. Once a brash, arrogant, image-obsessed charter member of the West Coast Avengers, Wonder Man eventually became disillusioned of super-heroics and mounted a violent assault on the Avengers brand. Today, Simon pursues his cause from inside the system as a noncombatant member of the Avengers Unity Squad, using his Hollywood flair toward public relations matters." – Paul Montgomery
Digital Spotlight Comic: AVENGERS (1998) #3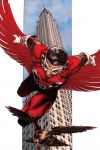 15. THE FALCON
First Appearance: CAPTAIN AMERICA #117
Joined the Avengers: AVENGERS #184
Why He's #15: "A former criminal who more than earned his wings as Captain America's partner, Sam Wilson flew high enough above Harlem to become not only its champion, but a symbol of hope and aspirations for its citizens. The Falcon's first go-round with the Avengers came as a component of a misguided 'affirmative action' mandate by the government, but after honing his skills as a solo flyer, the Falcon landed once again with the team and became one of its most prized additions. With trusted Redwing as his wingman, Sam Wilson's always on call for when the Avengers need him the most." – Jim Beard
Digital Spotlight Comic: AVENGERS (1998) #64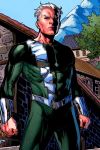 14. QUICKSILVER
First Appearance: UNCANNY X-MEN (1963) #4
Joined the Avengers: AVENGERS (1963) #16
Why He's #14: "It's no surprise that someone who moves as fast as Quicksilver has been on so many teams—X-Factor, Brotherhood of Evil Mutants, Avengers—and taken on so many roles—hero, villain, Inhuman consort, government agent, political radical, self-proclaimed mutant messiah. As the son of Magneto he's had a lot to run away from—and sometimes to run towards. He stands out as one of the first villains to become an Avenger, and one of the first Avengers to face them again as a villain. A lot of words can be used to describe the mutant speedster, but 'mercurial' and 'dashing' come to mind, as does 'dedicated,' both in his loyalty to his loved ones and commitment to redemption no matter how many times he falls." – Andrew Wheeler
Digital Spotlight Comic: AVENGERS ACADEMY #2
13. BEAST
First Appearance:
UNCANNY X-MEN (1963) #1

Joined the Avengers:
AVENGERS #137

Why He's #13:
"Not many heroes remained as beloved by two different teams as Beast does by the X-Men and the Avengers. The furry, blue mutant sought out membership among Earth's Mightiest after his original team slowly faded into obscurity. The Avengers brought out a whole new side of the hirsute hero; with brains like Tony Stark and Henry Pym on the team, McCoy often found himself playing the comedic foil to his new best friend Wonder Man. When the X-Men came back in full force with new members like Storm and Wolverine, Beast stayed true to his new Avengers family, assisting the Children of the Atom only when they needed it most. While they're no longer his primary team, the Avengers still bring out a side of Hank McCoy that we all love to see." –
Brett White

Digital Spotlight Comic:
AVENGERS #151


12. LUKE CAGE

First Appearance:
LUKE CAGE: HERO FOR HIRE #1
Joined the Avengers:
NEW AVENGERS (2004) #1

Why He's #12:
"Few people would have pegged a tough-skinned ex-con as Captain America's spiritual successor within the Avengers, but that's just what Luke Cage became when he held the New Avengers together with all of his might for years. In many ways, Cage represents the parts of the American dream not covered by Captain America's optimistic patriotism: the overlooked and oppressed. The former Power Man led the Avengers down streets they'd never walked, took on the Hood's army-sized crime syndicate, and beat back Norman Osborn's imposter group. Few heroes have literally held the keys to Avengers Mansion like Luke Cage, and few heroes have proven as deserving of the honor." –
Brett White
Digital Spotlight Comic:
NEW AVENGERS (2004) #22


11. EDWIN JARVIS

First Appearance:
TALES OF SUSPENSE #59

Joined the Avengers:
AVENGERS (1963) #4
Why He's #11:
"In terms of longevity, no other Avenger has served as long as Edwin Jarvis. While not a member of the team in the traditional sense, nobody serves as a greater foundation for the group than him. He wears many hats for the organization: butler, confidante, father figure, friend and ally. Even in the Avengers' darkest hours, Jarvis serves as the embodiment of hope and loyalty. After being nearly killed by the Masters of Evil in an assault on Avengers Mansion, rather than take a retirement package offered by Tony Stark, Jarvis overcame his psychological and physical injuries to return to his family, the Avengers." –
Tim O'Shea

Digital Spotlight Comic:
AVENGERS #201


The countdown continues tomorrow right here on Marvel.com, but in the meantime, share your thoughts on Twitter with us @Marvel using the hashtag #Avengers50!