By Tim Stevens
It should be noted that although this is the first time this writer has worked with the client in question, I did previously create a profile of him, utilizing previous records and eyewitness accounts, under the instruction of Anthony Stark.
Adam Brashear is an adult male of indeterminate age. Records date back to him being active as an adult costumed hero as early in the 1960's, making him somewhere around 70-plus years old, but apart from some graying at the temples, there is no indication that the client is not in the prime years of his life. Some information in previous reports indicate that he is aging but at a much slower rate than average. It is impossible without a full physical work-up to give an estimate of how old his body "thinks" he is.
What is clear, since his re-emergence as the Blue Marvel after years of non-action, is that his abilities see intact. Neither the passage of years nor the time off has appeared to affect his reflexes, strength, or cognitive abilities in crisis.
In session, the client presents as humble almost to the point of denial. Only when it is directly pointed out does the client acknowledge his gifts, which include both his super powers and what is, by all indications, an impressive body of scientific research. His affect typically matches his mood, both of which are congruent to what is being discussed. He is slow to reach any emotional extremes but does not appear to be blunting or guarding them, not does he present with any Axis I or personality disorders that might lead to limited emotional expression.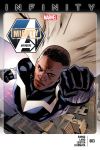 Although in the past there has been some concern that, given how the client was treated, at times, by the United States and its institutions—particularly during the Civil Rights struggles in the '60's—that he might present a threat. As before, this writer sees no reason to believe this would be the case. He is honest about his anger and his disappointment on these matters but does not speak to any desire for revenge nor does he appear to be someone whose first thought is to pursue violent solutions to situations.
The client mentioned that his specific concerns in pursuing therapy revolve around reintegrating himself into modern society and developing the ability to be a dependable collaborator on his team of Avengers. With this in mind, the client has been referred to Doctors Al Ewing and Greg Land's Effective Interpersonal Communications group as the client does not seem to need more in-depth individual therapy at this time.
Adam Brashear's next session is set for December 10 with Doctors Ewing and Land. Details of their assessment can be found in the file MIGHTY AVENGERS #4.
Psy D. Candidate Tim Stevens is a Dialectical Behavior Therapy Consultant and Psychology intern at a small(ish) university in New York City.