By Paul Montgomery
For many, that well-trod yellow brick road ended with "The Wonderful Wizard of Oz," the first and most famous of L. Frank Baum's Oz books. However, Eric Shanower and Skottie Young broadened that horizon, guiding modern readers down the woefully forgotten avenues of the Emerald City and beyond.
With comic adaptations of THE WONDERFUL WIZARD OF OZ and its first five sequels—THE MARVELOUS LAND OF OZ, OZMA OF OZ, DOROTHY AND THE WIZARD IN OZ, ROAD TO OZ, and THE EMERALD CITY OF OZ—the pair lent new color and life to one of American literature's richest imaginary realms.
To celebrate a new hardcover printing of that first limited series adaptation and the conclusion of the final volume, we look back with Shanower and Young on the past five years of nomes and clockwork men, of witches wicked and wondrous, and of bold, bright children brave enough to tame those many kingdoms of Oz.
Marvel.com: What design or adaptation decisions stand out as the steeper challenges in bringing the world of Oz to comics?
Eric Shanower: A few adaptation challenges stand out. One was how gruesome some of the scenes in "The Wonderful Wizard of Oz" are. How do we communicate in comics the scene where the Tin Woodman chops his flesh and blood body in half? How do we show the Scarecrow twisting the necks of crows? The comic needs to be kid-friendly. I made some suggestions to Skottie in my scripts about how he might draw these things, but it was pretty much up to him how to tackle these sensitive scenes. He handled them tastefully, sometimes using humor, as in the scene in "The Emerald City of Oz" where a Flutterbudget woman imagines herself bleeding to death. The Scarecrow-killing-crows scene is intense, though. My attitude toward it includes both hoping it's not too scary for little kids and hoping that it does scare them a little.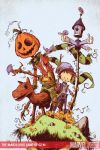 Skottie Young: By the point I'd started on the Oz books, I'd been working on monthly comics for Marvel for seven or eight years, so I was very used to cleverly showing that kind of thing. Even while I was working on NEW X-MEN there were still parameters. You didn't want to show guts flying out. There [are] a lot of things you can't show and you learn how to approach that. So I never viewed that stuff as much of a challenge as, really, putting my own stamp on what Oz would be for us. Growing up, there's no movie we've seen more, right? My parents always sat us down those couple times a year it was on. It's so ingrained in your head, so to try and make the Scarecrow my Scarecrow and not the movie's Scarecrow or book Scarecrow. That was the real challenge for me.
Marvel.com: In an effort to distance your vision of Oz from previous incarnations during that pre-production stage, did you ever find yourself wandering too far astray? Is there a danger in losing the core of that source material?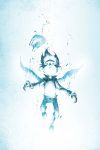 Skottie Young: Yeah, I only had a problem with that during my first design stages. Before I started on pages there was maybe a three month period where I just worked in sketchbooks on my own. Eric was done writing much of the scripts at that point, but I was spending a lot of time sketching, trying to find those characters. My first passes were me trying to put so much of my own spin on them that the Tin Man was a big, clunky robot. I may have put some of that in the collections. The Scarecrow had big, crazy teeth. Everything was pushed to 11 because that's the first instinct. Through our life, especially as a [creator], people are going to come along and edit you. I like to start by pushing it all the way. It's easier to pull back from that afterward than to add on. So that's what I did at the start. Eventually I realized, you know, I just have to go back to the book. Read what L. Frank Baum wrote, that text, and interpret that. It's easy to get lost in the product of it all. There's this huge movie and toys and merchandise, so I'd been looking at it four steps removed from the source material. I needed to remove that from the equation and focus on the original text.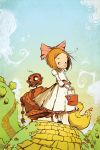 Even [William Wallace] Denslow [the original illustrator of "The Wonderful Wizard of Oz"] had his own interpretations, in that first novel, of how the Emerald City should look. Everyone has those green glasses, whereas I drew them as goggles. To me, what the text described sounded much more like what we today would call goggles. They encompass the whole eye so all you'd see was green. It's little things like that. And eventually the Scarecrow shifted closer to what Baum described in the text, and the Tin Man as well.
Marvel.com: Just as Oz continually lures back its young champions, this world has maintained a hold on readers for generations. How do these stories endure when so many others are forgotten?
Skottie Young: Well, I have to say that the 1939 movie plays a big, big role in that. To the point that a lot of people probably assume there's just the one novel. But that film being such a classic really helps to keep that source alive. Past that, I think it's the American Alice in Wonderland. We've always told stories of children lost in weird worlds, in imagination. Exploring and discovering those places.
Eric Shanower: The Oz stories have a life and three-dimensionality beyond just words on the page. Even a story like "The Road to Oz," which has a plot that isn't exactly riveting, has wonderful characters, like the Shaggy Man and Polychrome—[and] Skottie's designs of both those characters are terrific. It's the personality—the humor, the adventure, the quirkiness—beneath the surface that I think keeps the Oz stories alive. 
Marvel.com: What was the very first thing you sat down to sketch when starting that very first limited series?
Skottie Young: The first little doodle I did, I was on the phone when they were talking to me about the job, was the Wicked Witch's head. It was probably looking more like the movie version than how I eventually drew her in the book. Then when I actually had the gig and sat down for those first designs, it was Dorothy. I had pages and pages of my sketchbook of the same head. Later, I looked back at 30 pages of that sketchbook and realized I'd been repeating that same head over and over, trying to find the subtle shape. That was the biggest challenge. I knew that once I unlocked that character, the rest would fall into place. I can make funky scarecrows and weird tin people and stuff, but people, they're the hard thing to get. Especially if you draw in an odd style, trying to make them look human but also stylistically interesting, it's a hard balancing act. So it was Dorothy for a few weeks straight.
Marvel.com: Do you have a favorite region of Oz? A favorite culture or creature?
Eric Shanower: If I had to live in Oz, my first choice would be the Emerald City, of course. If I couldn't live there, I'd live in the Munchkin Country, since it's the most civilized quarter of Oz's four sections. Also my favorite color is blue. But I could live in peace in the pastoral Munchkin countryside, and whenever I wanted some adventure, I'd travel to the wilder regions of the Quadling Country and Gillikin Country.
Skottie Young: I loved drawing those little nomes in their caves. It was all so cool. I think if I had to pick one character, and I know he's main cast, it'd be the Scarecrow. I think because I could never open his mouth and there was such a limited range with his eyes, there's that added challenge of finding human expression through gesture and body posture. That's a very fun exercise, really pushing those pantomime skills.
Marvel.com: Are than any remaining stories in the Oz line you'd like to explore at some point?
Eric Shanower: Yes. I think it would be great to adapt the rest of the Baum Oz books to comics; I'd especially like to see comics adaptations of "The Patchwork Girl of Oz" and "Rinkitink in Oz," and maybe some of Baum's Oz-related fantasies like "Sky Island" and "Queen Zixi of Ix." But I'd want to work with an artist of Skottie's caliber. I've been working on one Oz project or another my whole career, and I know these Marvel Oz adaptations won't be the last. Some sort of Oz material is always popping up on my radar.
Skottie Young: I definitely want to draw that Patchwork Girl. I actually wish that would've come up sooner. It's bittersweet because I really want to play with the character, but I also know it's good to take a break. Ah, we'll see what happens!
Marvel.com: What are you working on now?
Eric Shanower: Along Oz lines, I'm producing a theatrical version of "The Tik-tok Man of Oz" by L. Frank Baum, music by Baum and Louis F. Gottschalk. It'll be performed on the Saturday night of Winkie Con 50 next August 8-10 in San Diego. The original run was in Los Angeles in 1913, then toured. We're reviving it for one night with all the original music that still exists, about 25 pieces.
I also have revisions to do on an Oz short story for an upcoming small press anthology.
Age of Bronze, my comics version of the Trojan War legend, is still ongoing for Image Comics. I'm scripting issue #34 right now and have to get to drawing that.
I'm writing the scripts for Little Nemo: Return to Slumberland, a four-issue comics series for IDW. Gabriel Rodriguez, artist for Locke & Key, will be drawing that. The story is founded on the classic comic strip Little Nemo in Slumberland by Winsor McCay, but we're updating Nemo for the twenty-first century.
I'm trying to finish the art for a short comics story for a HarperCollins young adult anthology of mostly prose stories about guns. My story involves what happens when Cupid gets his hands on an arsenal.
I'm working on a version of Euripides's Greek tragedy Iphigenia in Aulis, translated by Edward Einhorn. It will combine the play with Age of Bronze artwork.
And I'm almost finished with what I hope is the final draft—at least before agent eyes see it—of a middle grade fantasy novel. No guarantee, though, whether that'll find a publisher, so none of you out there may ever see it.
Marvel.com: Skottie?
Skottie Young: Ah, I wish I could tell you!
Marvel.com: Well, there's a dairy product you can talk about…
Skottie Young: [Laughs]. It's funny about that because I finished "Fortunately, the Milk" a year and a half ago. I know that's newly out, but in my head, it came out so long ago. It's a children's book, written by Neil Gaiman. It's about a father telling his kids what happened to him on the way to the store to grab milk. I illustrated that and it's a fun, fun book. It's for kids, but it's also a different kind of thing for people who have read Neil recently. This is much more a big, fun, lighthearted and wacky romp.
Then of course there are all the Marvel cover variants I've been working on. I know I've at least finished 40 or 50. At this point my goal is to hit a cool 100.
Read the final issue of THE EMERALD CITY OF OZ, available now!