Many Marvel heroes and vigilantes don red when they take to the rooftops. For the hunted, they hope that that flash of ruby cloth against the moonlight belongs to someone gentler than Elektra Natchios. This April, the crimson-clad assassin returns, and time's done nothing to dull her wicked blades or the fury bringing them to bear.
The cruel and mournful dance continues in ELEKTRA by Haden Blackman and Mike Del Mundo. We spoke to Blackman about the latest chapter in the life of one of Marvel's most tragic and lethal figures.
Marvel.com: Elektra Natchios personifies Greek tragedy in the Marvel Universe. Any chance you're going easier on her with this next chapter in her life?
Haden Blackman: If anything, we'll be putting Elektra into even more precarious situations. Not only will she be risking her life, but it's finally her life; she's no longer answering to anyone and is now striking out on her own to figure out who she is and what she wants, so she has even more to lose than ever before.
Marvel.com: What's most important to Elektra right now? What drives her?
Haden Blackman: Initially, it's very simple: She wants to get away from New York, which she associates with Daredevil, Bullseye, the Hand, the Kingpin—all of these elements of a past that she wants or needs to escape. On a deeper level, Elektra is wrestling with questions of identity and purpose. As the series opens, she is realizing that, all of her life, she has been defined by what others have wanted her to be. But, when she's free of that for the first time, when she strips away who she is to everyone else, she isn't sure what's left—except an assassin. All that combines into a new mission: finding a legendary assassin with a price on his head before anyone else can.
Marvel.com: Do you consider Elektra a hero? An anti-hero? Something in between?
Haden Blackman: If you define a hero as someone who is willing to make a selfless sacrifice, then I think that Elektra has often been heroic. I don't think she'd hesitate to sacrifice herself to protect someone she cares about, for example. But, her moral code is definitely very malleable, and I think she's still discovering her limits, which will be a large part of this series.
Marvel.com: Elektra doesn't have an alias or moniker when she goes into battle. Does that mean she's Elektra the Assassin 24/7? Are we invited into her trust, or does she remain a mystery?
Haden Blackman: I don't know how to write a character without getting into his or her head to some degree. When the series opens, Elektra very much sees herself as an assassin and only an assassin, and she's still very taciturn with people around her, but that doesn't mean there isn't a lot going on under the surface, and I want to let readers get a glimpse of that. So, Elektra will reflect on her past and future, reflect on the action and her decisions, but hopefully in a voice that feels true to the character.
Marvel.com: Elektra is one of the most dangerous people in the Marvel Universe, but naturally she'll be squaring off with some enemies. What does it take to be more dangerous than the assassin at the center of the book?
Haden Blackman: It depends on the character, but I rarely think it comes down to raw skill or training. The assassin that Elektra is initially pursuing has many, many more years of experience, but more importantly, he quite frankly has more to live for. He's motivated by something beyond greed or even a primal need to survive. Meanwhile, one of her rivals has the conviction of belief; he truly believes that he is destined to win this fight, and he's willing to do some truly horrific things in order to succeed.
Marvel.com: These days, Elektra runs with the Thunderbolts. Will those commitments or any past relationships carry over into this series?
Thunderbolts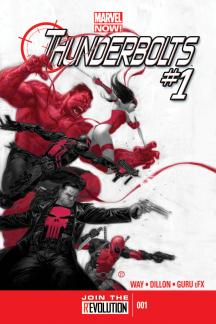 Haden Blackman: Elektra begins the series on her own. She will interact with characters from her past, and will definitely reference her past, but right now she is focused on figuring out who she is for herself, not who the government or anyone else wants her to be.
Marvel.com: Can you speak to the challenge of writing and drawing a character with such lethal grace and poise? Are you watching a lot of kung fu flicks? What kinds of conversations have you had with Mike Del Mundo with regard to capturing all that?
Haden Blackman: For the physical side of things, I'm definitely immersing myself in martial arts films, but also consuming a ton of comics with lots of melee combat and even studying acrobats, gymnasts, and dancers. Mike and I have talked a lot about the similarities—and differences—between dance and martial arts. There's probably an infinite number of ways you can choreograph a fight sequence or a punch, but ultimately the most important element is what that fight means to the character and the story.
ELEKTRA #1 will slice its way on sale this April