There's never a dull moment in the life of Jennifer Walters, the super heroine better known as the sensational She-Hulk! This jade giantess spends her mornings defending the innocent in the courtroom, her afternoons fighting super villains on the streets of Manhattan, and her nights blowing off steam at whichever club can withstand the damage. No one juggles a packed calendar quite like She-Hulk.
Instead of simply focusing on one aspect of Jen's life, SHE-HULK writer Charles Soule aims to capture every facet of the lawyer/super hero/party girl in her new ongoing series. While Soule won't shy away from the legal proceedings unique to a character like Jennifer Walters, he has made sure to cram in as much high-octane adventure as he can into Shulkie's already crowded schedule.
We spoke with Soule about She-Hulk's upcoming adventures.
She-Hulk #1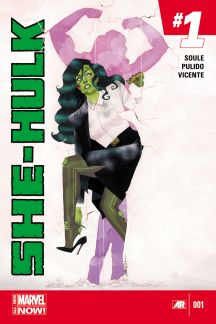 Marvel.com: What propels Jen to fight for justice in this way, in addition to being a lawyer?
Charles Soule: I think it's partly because she can. She's one of the stronger members of the hero crew in the Marvel Universe, and that's a gift that shouldn't be wasted. With so many dangers threatening people every day—Mole Man, M.O.D.O.K., Magneto, Madame Masque, Mammomax, etc.—she feels it's her obligation to help where she can. Plus, it's awesome! What, you're She-Hulk and you're just going to sit behind a desk all day? Nope.
Marvel.com: How has being a lawyer colored Jen's attitude towards being a super hero? Does she view anything differently from her costumed peers?
Charles Soule: You know, I think so. Things are rarely black and white for lawyers. We're trained to look at things from many angles and choose the one that will best help our client. That sort of perspective certainly comes into Jen's superhero work. She sometimes looks beyond her next punch; punching isn't always the best way to solve a problem.
Marvel.com: She-Hulk often finds herself on super hero teams, like the FF and Mighty Avengers. Why do you think she's so drawn to the team dynamic?
She-Hulk is just a social character! She's not one of these dark loners; nothing wrong with characters like that, but she's into people. Think of it from the other side: if you were putting together a super hero team, wouldn't you want Jen on it? She's cool, she likes to go out after the hero work is done, she's funny, smart and beautiful—of course they want her around. Total win-win.
Marvel.com: How does She-Hulk approach being a solo hero as opposed to on a team?
Charles Soule: I'm not sure she thinks it through that deeply. Jen trusts her gut and does what she thinks needs to be done. Again, that doesn't always mean she punches first, but it does mean she just does what seems right at the time. And most of the time, it works out—until it doesn't!
Marvel.com: Unlike many super strong characters in the Marvel Universe, She-Hulk is also super smart. How does she use her physical abilities differently than other super strong heroes?
Charles Soule: Again, I think she takes more of a big picture look to some of the situations she's in. Her legal training helps her to see the forest for the trees, which lets her apply her strength and other abilities in more considered ways. It doesn't always work that way; sometimes she just gets angry—like everyone—and reason flies out the window, or it just becomes time to throw down, but she's capable of more precise work, when she needs to be.
Charles Soule: In this series, most of her hero work and associated derring-do will spill out of the things happening in her law practice. It's not impossible that she could get involved with things going on in the larger super-world, but that sort of thing can be found in some of the other books in which she appears, too. This title is designed to be a closer look at the life of Jen Walters, the Savage, Sensational, all-around kickass She-Hulk—and she's a hero in all sorts of ways.
SHE-HULK #1 hits on February 12!